'David Cameron is dead': Radio presenter confuses PM with Bowie in live gaffe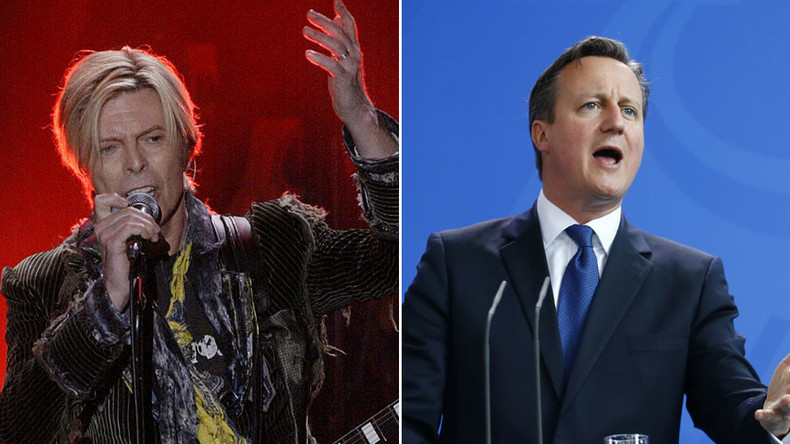 Heart FM newsreader Fiona Winchester accidently announced the death of Prime Minister David Cameron instead of music legend David Bowie live on air, it has emerged.
As the world awoke on Monday to mourn the death of British music icon Bowie, the broadcast journalist made the embarrassing gaffe during a morning news bulletin, in which she accidently said "David Cameron has died."
When she became aware of the mistake, she quickly corrected herself and replaced the PM's name with Bowie's.
However, listeners pounced on the error and took it to social media.
"Very smooth from the radio news lady," one Twitter user jibed.
Meanwhile, one Scottish user quipped: "Dinny worry hen, we wish it too."
The PM paid tribute to the English artist on social media, calling Bowie's death a "huge loss."
"I grew up listening to and watching the pop genius David Bowie. He was a master of re-invention, who kept getting it right. A huge loss," the PM said on Twitter.
In an extended message on Facebook, Cameron said: "David Bowie was someone who people of my age, and those quite a bit older, felt we grew up with."
"He provided a soundtrack to our lives, from the first time I heard Space Oddity to the pride of welcoming British athletes at the London Olympics to one of his masterpieces – 'Heroes'.
"He was also a master of reinvention, who kept getting it right, leaving a body of work that people will still be listening to in a 100 years' time. He was someone who truly deserves to be described as a genius."
The official news of Bowie's death was shared on his social media accounts on Monday morning.
A statement from Bowie's team said: "David Bowie died peacefully today surrounded by his family after a courageous 18 month battle with cancer.
"While many of you will share in this loss, we ask that you respect the family's privacy during their time of grief."
The singer's son, Duncan Jones, said he is "very sorry and sad to say it's true."
"I'll be offline for a while, Love you all," he said on Twitter.
Meanwhile, David Bowie's ex-wife Angie, who is currently in the Celebrity Big Brother house, has not yet been informed of the news.
"Following the very sad news of David Bowie's death, we can confirm Angie will be informed off camera today at the earliest opportunity," Big Brother UK said on Twitter.
You can share this story on social media: