Trump Force One! Tycoon fined for air pollution by British Environment Agency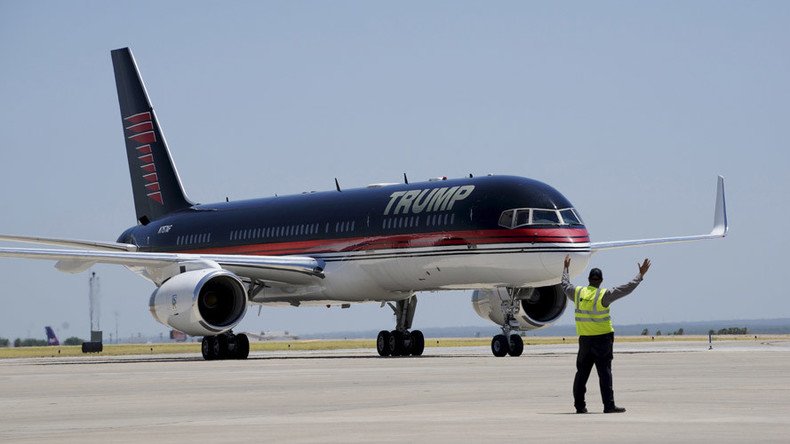 Donald Trump has had quite a week of it in the UK. First a petition calling to ban him from the UK was approved for a parliamentary debate. Now the billionaire tycoon is facing fines for carbon emissions from one of his private jets.
Trump is one of a number of businessmen and companies fined for failing to "surrender sufficient allowances to cover annual reportable emissions" by the Environment Agency. The organization is responsible for enforcing the European Union's emissions trading scheme (ETS) in the UK.
Among other offenders are the Bahraini Royal Family, 21st Century Fox America and vehicle manufacturers JCB, who have all been asked to pay for flights to and from the UK.
The ETS states that all polluters must give a carbon permit for each ton of carbon pollution emitted, or face a £75 fine. Some permits are given to air operators for free, or can be bought for roughly £6.
The Republican presidential hopeful faces a £1,610 fine for a flight to the UK in a plane owned by DJT Operations I LLC.
The Guardian speculated the plane could be the Boeing 757 he uses as a private jet. Inside the huge aircraft, which would normally carry 300 passengers, Trump enjoys a luxurious interior complete with bedroom suite and gold taps.
"The EU Emissions Trading System is an important means of regulating emissions from aviation operators," said Liz Parkes, Environment Agency deputy director of climate change and business services.
"The Environment Agency's enforcement activity is part of coordinated action across Europe," she said.
The fines come as London breached its annual pollution limit just eight days into 2016, and only weeks after Prime Minister David Cameron attended vital climate change talks in Paris.
Various areas in London have been edging closer to their annual limits of nitrogen oxide (NO2) gas emissions, but it was at 07:00 GMT on Friday morning that Putney High Street finally breached the agreement.
Any given area is only permitted to breach the hourly limit of 200 micrograms of NO2 per cubic meter of air 18 times a year, but Putney High Street has already crossed this limit 19 times.
NO2 is a toxic gas linked to both breathing and heart problems.
Other areas in London expected to breach the limit soon include Kensington and Chelsea, as well as Oxford Street, which remains one of the most polluted streets in the capital.
You can share this story on social media: