Bill Clinton warned Tony Blair of Saddam Hussein 'nightmare' 4yrs before Iraq War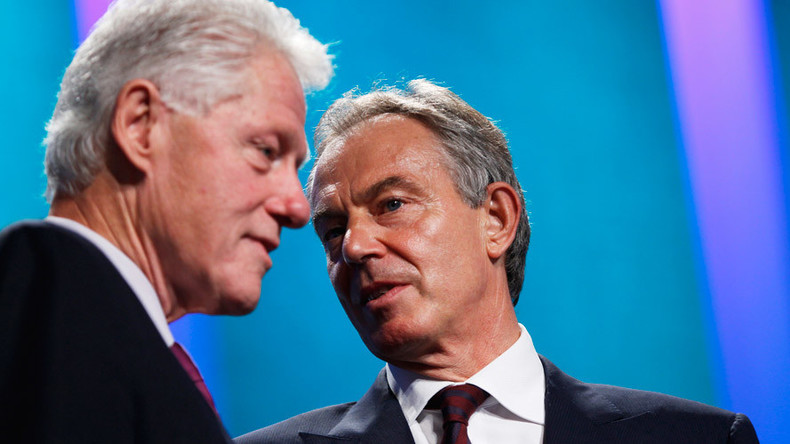 President Bill Clinton warned Prime Minister Tony Blair that Iraq could become a "nightmare" for the UK four years before Britain and the US invaded the country in search of weapons of mass destruction (WMD).
Previously secret transcripts of phone calls between the two leaders reveal Clinton spoke to Blair extensively about Saddam Hussein's suspected chemical weapons and his violation of no-fly zones.
The documents published by the BBC following a Freedom of Information (FoI) request, also disclose the two leaders' mixed feelings about newly elected Russian President Vladimir Putin.
While Clinton initially lavished praise on Putin as someone with "enormous potential," he later expressed caution about the Russian leader, suggesting he would get "get squishy on democracy."
Transcripts detailing phone calls between Clinton and Blair were given to the Clinton Presidential Library after the former US president left the White House in 2001.
They offer a glimpse into the relationship between Labour PM Blair and Democratic President Clinton during the three years they were both in power.
In a telephone conversation on October 13, 1999, Clinton outlined the different outlooks on Iraq between Britain and America.
The president accused Blair of siding with the French in relaxing sanctions on Iraq before Saddam guaranteed disarmament, confessing the Republican controlled Congress would "eat me alive" if he showed such weakness.
"The language your people worked out with the French crosses a red line, because it suspends sanctions on Saddam Hussein before disarmament," Clinton told Blair.
The president warned Saddam would "quickly re-establish the weapons of mass destruction program" if he wasn't forced to meet his "disarmament obligations."
"I think if we say to this guy, 'If you start to comply, we will lift sanctions,' he will quickly re-establish the weapons of mass destruction program, and it will become known in two years that he has," Clinton said.
"It may not happen while I'm in office, but it will for you. It could become a real nightmare for you."
The former US President also spoke of his admiration for Vladimir Putin, who was serving as Russia's acting president following his predecessor Boris Yeltsin's unexpected resignation.
During a telephone conversation on February 8, 2000, Clinton told Blair he thought Putin was someone "we can do a lot of good with."
"We're trying to resolve bilateral issues with Russia and kind of get this Chechnya thing resolved," he said.
"Putin has enormous potential. I think he's very smart and thoughtful. I think we can do a lot of good with him."
Later that year, the two expressed cautious optimism about the newly elected Russian president.
Speaking by phone on November 23, 2000, Blair described a meeting with Putin as "very interesting."
"He was very anxious to impress me. He wanted to see America [as] a partner, I think," the former PM said.
Clinton repeated his admiration for Putin: "I think he is a guy with a lot of ability and ambitions for the Russians. His intentions are generally honorable and straightforward, but he just hasn't made up his mind yet. He could get squishy on democracy."
You can share this story on social media: