Cost of fitness-to-work tests skyrockets, assessments inadequate – report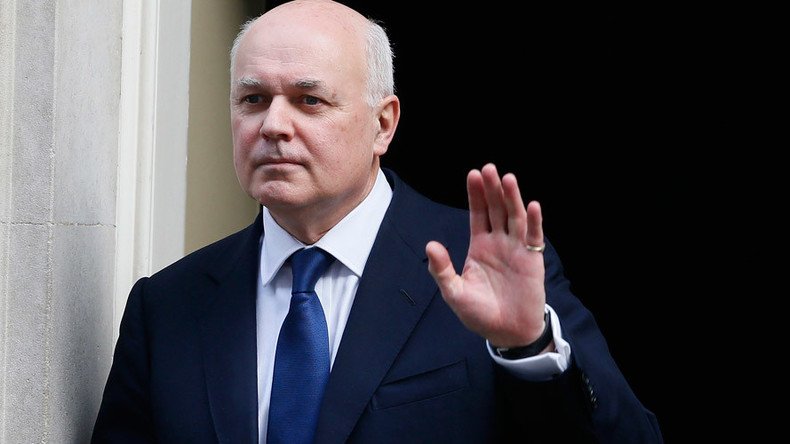 The Tories are spending more taxpayers' money on assessing whether Britons are fit to work than they are saving in reductions to the state's benefits expenditure, a National Audit Office report shows.
The damning report found the Department for Work and Pensions (DWP) aims to carry out seven million health and disability assessments between April 2015 and March 2018 at an estimated cost of £1.6 billion.
The public accounts committee has warned savings in benefits will likely fall short of a billion pounds over the next four years as a result of the costly new tests.
Under the government's latest contract with Centre for Health and Disability Assessments (CHDA), benefits assessments have risen by over 60 percent.
Although Employment and Support Allowance (ESA) tests cost the government £115 under disgraced outsourcing firm ATOS, CHDA are now charging £190.
Despite the fact the assessments have skyrocketed in cost, the NAO says providers are struggling to meet required performance standards.
"The Department has addressed some of its immediate operational issues in managing contracted-out health and disability assessments, but now needs to take action to break a perpetuating cycle of optimistic targets, contractual underperformance and costly recovery," NAO chief Amyas Morse said.
"The Department needs providers to complete the planned number of assessments so that it can achieve the significant benefit savings it expects to make over the next few years."
The spending watchdog's study warned benefits claimants are still forced to wait six months before they are assessed. They are not entitled to full payments during this period.
The NAO's report also found that none of the providers carrying out the tests satisfied the government's threshold for quality assessments, with some files containing illegible scrawl and spelling errors.
Ministers were also revealed to have set unattainable targets for the number of ESA tests that could be completed annually, leaving a backlog of roughly 280,000 claims. At the same time, ministers have been forced to put plans on hold to conduct reassessments of those who are claiming benefits.
The spending watchdog's report also uncovered serious problems with US outsourcing firm Maximus, which took over ATOS's contract to conduct ESA tests in 2014. Only 50 percent of doctors and nurses hired to conduct assessments finished their training, despite a government target of 95 percent. Average staff costs were also found to have risen from £26,000 to £44,000 between 2014 and 2015.
In summary, the DWP is refusing to disclose how many DLA claimants had been made worse off after being moved onto the new PIP benefit.

— Samuel Miller (@Hephaestus7) January 2, 2016
The release of the NAO's report comes just a day after it emerged a woman, who suffered from a serious lung condition, was informed she no longer qualified for sickness benefits on the day she died.
Dawn Amos, 67, who lived in Essex, died in November 2015 after suffering from obstructive pulmonary disease (COPD), which made it difficult for her to breathe.
The DWP had reviewed her claim and wrote to her to say she was not sick enough to receive the weekly benefit. The department said the decision had been reached using the information on her claim form and additional information from her doctor six months prior to her death.
The findings of the NAO's report have sparked outrage and could result in Work and Pensions Secretary Iain Duncan Smith and other top DWP officials being called before the state's Public Accounts Committee (PAC).
Labour MP and chair of the PAC Meg Hiller said the cost of the assessments is "staggering" and sick and disabled people across the country deserve a "better deal." Hiller also said taxpayers and the disabled had been failed by the DWP's incapability of managing the assessments.
She warned the government's outsourcing of public services does not absolve it from its duty to ensure taxpayers' money is well spent.
Labour's Shadow Minister for Disabled People Debbie Abrahams said the report is another illustration of incompetence from the DWP.
Abrahams warned the government is locked in a cycle of overly optimistic objectives, contractual underperformance and expensive recovery.
A spokesperson for the DWP defended the assessment process, saying that progress has been made and this is reflected in the NAO's report.
Asked what the department is doing to address 6-month waits for claimants who are seeking assessment, the spokesperson told RT it is doing its utmost to tackle backlogs.
"We are determined to support more people into work and provide individuals who can't with the correct support that they need – the effective assessment of people's abilities is key to this," the spokesperson said.
"To ensure that support is targeted correctly and that we achieve value for money, we operate a strict competitive contract tendering process and factor all costs into departmental spending plans. This also ensures that the quality of the assessments for claimants improves at the same time."
You can share this story on social media: