Tory MPs allowed free vote on EU membership – Cameron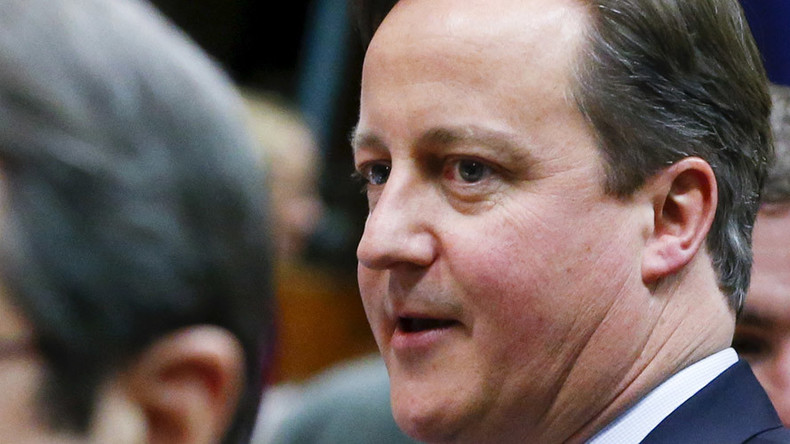 Prime Minister David Cameron is to announce Conservative Party MPs will be given a free vote in the forthcoming referendum on the future of Britain's membership of the EU, meaning some of his cabinet will be able to campaign for a Brexit.
Cameron is expected to tell the House of Commons on Tuesday afternoon that once he has completed his negotiations with European leaders, MPs will be allowed to decide their own positions on the matter.
His decision has been greeted with pleasure by senior anti-EU MPs who have previously threatened to quit their roles if they are not allowed to campaign freely.
Cameron will say ministers must follow his line to campaign for a reformed relationship with the EU until negotiations are over and a deal has been struck.
In December, former Conservative leader Lord Howard said a free vote would ensure MPs are able to debate the issue with "courtesy" and "respect," but there are concerns the differences of opinion could cement divisions in the party.
Senior Tories and cabinet members who could campaign to leave the bloc include Home Secretary Theresa May, Secretary of State for Work and Pensions Iain Duncan-Smith, Justice Secretary Michael Gove and Leader of the House of Commons Chris Grayling.
In response to the decision, Shadow Business Secretary Angela Eagle took to Twitter to brand Cameron "weak weak weak" for allowing himself to be swayed by his cabinet.
The Labour Party says it will campaign for Britain to stay in the European Union, but there is concern the free vote could influence the decision.
But Tory MP and Chairman of the anti-EU group Conservatives for Britain Steve Baker said the decision is "wise" and that he is "delighted."
"The Prime Minister has made a wise decision which is undoubtedly in the best interests of the Country, the EU debate and the Conservative Party. I am delighted."
One anonymous former senior Conservative told the Telegraph they were disappointed with the decision saying it was "crazy" to allow MPs to campaign to leave if the government is in favor of staying.
"It's crazy, a total mess," they said.
You can share this story on social media: