Pegida UK unveils new ultranationalist leader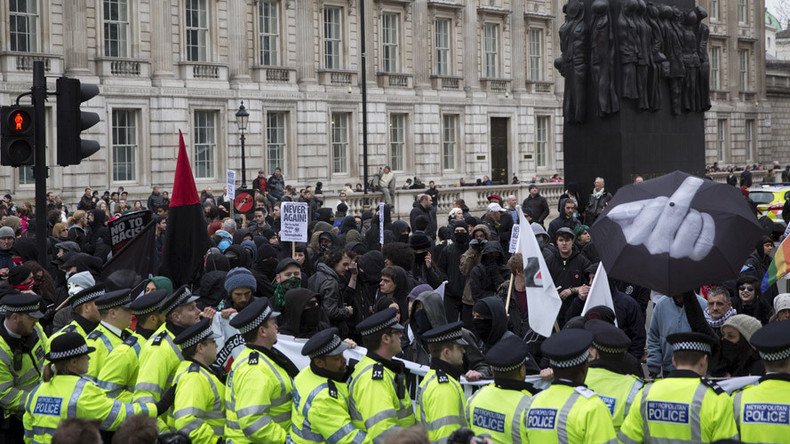 Former English Defence League (EDL) leader Tommy Robinson has announced the new head of a relaunched Pegida UK, the far-right nationalist group campaigning against the so-called "Islamification of Europe."
Paul Weston will take over as head of the organization, Robinson revealed, with UKIP candidate and Sharia Watch chairwoman Anne Marie Waters joining him in the senior management of the group.
Speaking in Toddington, Bedfordshire, on Monday, Robinson unveiled the new and reformed Pegida UK. He said the group will no longer take part in demonstrations, and will hold peaceful meetings outside of city centers.
Previous rallies in the UK have been met with powerful counter-protests and often descended into violence.
Pegida originated in Dresden, Germany, and was established to protest against mass immigration.
Weston, who stood as a candidate for Liberty GB in the 2015 general election, was arrested in 2014 after refusing to move from the steps of Winchester Town Hall while reciting sections of a speech by Winston Churchill.
In the general election, Weston came last in the Luton South constituency, receiving just 156 votes.
Anne Marie Waters also ran in the 2015 election for anti-immigration party UKIP, but failed to win a seat.
Pegida UK came under fire in December when its scheduled march in Birmingham was criticized by the local leaders of the Labour, Conservative and Liberal Democrat parties.
Tommy Robinson told the IB Times that Birmingham had become the "terrorist epicenter of Britain" and announced a rally would be held there on February 6.
However, a joint statement from Birmingham councilors said: "On the day that Birmingham was formally awarded City of Sanctuary status (December 4), it was disappointing to hear of the plans for the launch of a new anti-Islamic far-right group.
"Birmingham is a city that has a proud history of tolerance, cohesion and integration – with people from around the world of all faiths and heritage welcome to make their home here. Brummies do not subscribe to ideas based on prejudice, intolerance and hate. That is why the planned launch of a new group in Birmingham is rejected by the council."
It is not clear whether the Pegida march will still go ahead as planned.
You can share this story on social media: