ISIS video: Voice recognition software used to track new 'Jihadi John' & 'Jihadi Jnr'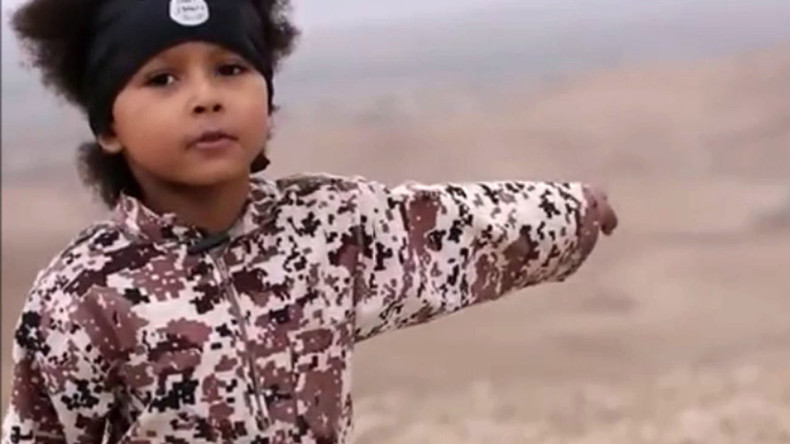 Experts investigating the identity of a British jihadist and his boy accomplice, who feature in the most recent Islamic State (IS, formerly ISIS/ISIL) execution video, will use the same methods used to unmask and track Mohammed Emwazi, aka "Jihadi John."
They also hope to confirm the identity of the child, who in the footage says: "We will kill the Kuffar [non-believers] over there." He is thought to be the son of an infamous British jihadi bride.
Emwazi, who featured in the terror group's videos before he was killed in a US airstrike in the summer of 2015, remained unidentified for nine months after making his grisly first appearance in 2014.
Intelligence officers used voice recognition software to find Emwazi.
The new British jihadist, who is seen in a new video taking part in the murder of five hostages accused of being "British spies," has sparked an international manhunt. Security services are expected to use voice recognition software once again to find the man.
They will also use traditional methods, including facial recognition devices.
The video also features a small boy, thought to be from the UK, whose face is clearly visible.
Speaking to BBC Radio 4's "Today" program, Kings College professor and Syria expert Shiraz Maher said: "The child for sure will be identified relatively quickly because it inconceivable to me, given his age, that he would have been born out there. He would have been taken over, so someone will recognize that child and tell us who he is. And of course, the child isn't wearing a balaclava or a mask."
Maher added: "The most surprising thing is the young child at the end. He does speak in English but that doesn't necessarily mean he is from the UK. It is very hard if you watch the video to make out what he says. You have to a watch it a couple of times to be clear.
"We have seen French children in executions so it wouldn't be entirely novel, but certainly in the coming weeks, when that [full] video gets released we will learn more about that."
He added it will be more difficult to identify the British man.
"The main figure in the video does wear a mask so it may take time to identify him. We saw that with Mohamed Emwazi ... It took quite some time before he was unveiled as it were."
The child, who appears at the end of the IS video, could be the son of a British jihadist bride, the Mirror reports. In the footage, he says: "We will kill the Kuffar (non-believers) over there."
The newspaper suggests the boy bears a resemblance to the son of London-born Grace "Khadijah" Dare, who left the city in 2012 for an arranged marriage in Syria.
Dare's father, Henry Dare, told the Telegraph he is sure the boy is his grandson.
"I was surprised when I saw the picture. It's definitely him. Of course I'm worried but there's nothing I can do now."
"I'm not angry - I would never have expected it. I just hope someone is trying to bring them back," he said.
Downing Street has condemned the video, calling the propaganda "a reminder of the barbarity of Daesh [IS]."
You can share this story on social media: