Severe flood warnings across UK prompt evacuations, army deployed in affected areas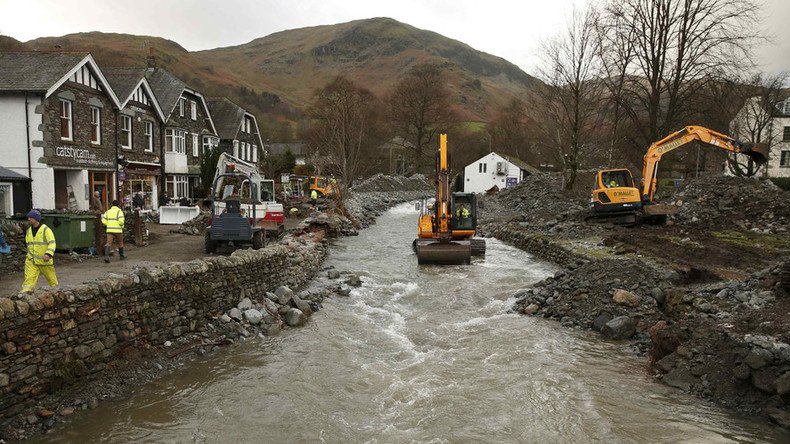 Hundreds have been evacuated and the British Army has been mobilized, as water levels are dramatically rising in parts of the UK with severe flood warnings being issued.
Lancashire, Yorkshire and Cumbria are the most affected areas, according to Environment Secretary Liz Truss.
The UK Environmental Agency has issued more than 215 warnings, 15 of them considered life threatening.
"With further rain forecast, we urge people to remain vigilant and follow @EnvAgency and #floodaware on Twitter for the latest flood updates," Paul Mustow, deputy director in flood and coastal risk management at the Met Office's flood forecasting centre, said.
Lancashire Road Police said at least 600 people have been evacuated in Whalley, Ribchester and St Michaels, the most affected areas.
Residents of Hebden Bridge in West Yorkshire have been posting numerous photos of their hometown heavily affected by the flooding.
"The low-lying businesses that are on Market Street, lots of those business owners have been down there trying to move their stock," Giles Perkins, a Hebden Bridge resident, told the Guardian. "I've just been inside own of those shops and it's been breached totally."
"It's still raining hard. River levels are still rising, sadly," he added.
The Army has been deployed to build temporary flood defenses in Cumbria, in North West England.
All roads across North Wales have been closed, with police urging residents to refrain from traveling.
"Heavy rain is expected to continue at times for the rest of Boxing Day across northwest Wales, although easing off for a time this afternoon," the warning says. "Given totals so far over Snowdonia, and reported impacts, be prepared for further medium impacts from flooding," the Met Office said.
At least 11 flood warnings have been issued in Scotland, mostly in the Borders and Tayside areas.
Met Office forecaster Greg Dewhurst told the Telegraph the weather is "unusual."
"And as you can see from the rainfall figures from this weekend alone it's very similar to what we'd expect across the whole month, so it is unusual to see such a prolonged unsettled spell," he said.
You can share this story on social media: