Schools ordered to spy on students' internet use, 'protect them from radicalization'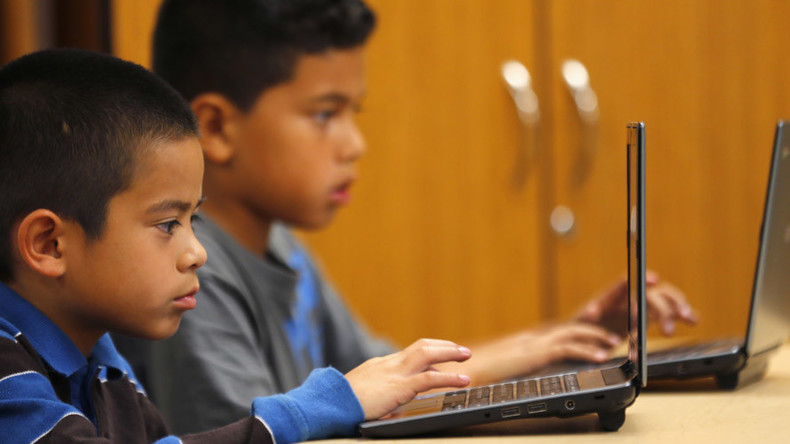 Primary and secondary schools in England must install online filters on computers to protect pupils from being radicalized, exposed to pornography and bullied on the internet, the government has said.
Several youngsters have left Britain and traveled to Iraq and Syria to join Islamic State (IS, formerly ISIS/ISIL) in recent months. Birmingham MP Khalid Mahmood claims 2,000 Britons are now fighting with the terrorist group.
In an effort to prevent more children from running away, Education Secretary Nicky Morgan announced on Tuesday that schools will be required to filter explicit content and monitor students' internet use.
Children from the age of five will also receive classes in online safety from next September, she added.
The reforms, which have been published for consultation, outline a range of possible measures ministers could take to tackle online radicalization and cyberbullying.
If the proposals are adopted, the Office for Standards in Education (Ofsted) would be responsible for ensuring all schools comply with the new rules.
Under current laws, schools need to "consider" teaching pupils about online safety, but ministers are determined to change this so teaching is "required."
In a statement, Morgan said: "As a parent I've seen just what an important role the internet can play in children's education.
"But it can also bring risks, which is why we must do everything we can to help children stay safe online – at school and at home.
"This includes ensuring young people know how to use the internet responsibly and that parents and teachers have the right measures in place to keep children safe from exploitation or radicalization."
The new controls come months after Bethnal Green Academy schoolgirls Shamima Begum and Amira Abase, both aged 15 at the time, and Kadiza Sultana, then 16, flew from London to Istanbul en route to Syria.
Alongside the consultation, the Department for Education (DoE) has published a two-page advice guide for parents about how to discuss online dangers with their children.
It suggests youngsters should be taught about the risks of posting images online. It also advises parents to teach children that some people they meet online may not be who they claim to be.
The guide says youngsters should be aware of the dangers of creating an "online reputation" that could possibly create "problems for them in the future."
National Association of Head Teachers General Secretary Russell Hobby told the Daily Mail: "The internet is a powerful tool but also poses obvious risks for children and young people. We think schools would welcome greater clarity on how to deploy appropriate filters and monitoring systems and that they will readily fulfill their safeguarding duties in this domain."