Blind 7yr old girl banned from using cane in school leaves after 'online bullying'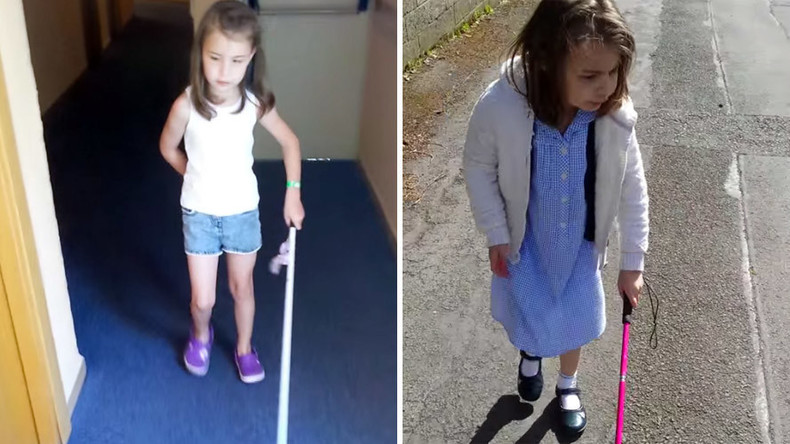 A blind girl from Bristol has moved schools after an "online bullying" campaign was launched to support the institution's decision to ban her from using a white cane that allows her to walk independently, it has emerged.
Lily-Grace Hooper, 7, is blind in one eye and only able to see light and color in the other. Her eyesight deteriorated when she suffered a stroke four days after birth.
In November, Hambrook Primary School in South Gloucestershire told Lily-Grace she could no longer bring her cane to school because a safety assessment found it could pose danger to other students and teachers.
Although it was dismissed by the Health and Safety Executive (HSE), Hooper's mother Kirsty said she felt "unwelcomed" after parents and teachers launched a social media campaign using the hashtag #happyathambrook to show support for the school's decision.
Several parents posted images of their children looking happy at the school.
Kirsty Hooper said she felt "very disappointed" in the way Hambrook handled the incident, adding she feared the campaign would have led to her daughter being bullied.
"I'm very disappointed. Both my older sons went to the school, and I've never said it was a bad school. It was just a bad decision," Hooper told the Bristol Post.
"They haven't handled it well. Lily-Grace misses the school, she misses her friends. But I don't think she can go back there now.
"By the time we were aware of what was going on, on Facebook, she was no longer welcome there.
"I felt bullied, I felt she was going to get bullied.
"It was wrong, the decision was wrong, and I just wanted to stick up for my daughter."
Commenting on the safety assessment, Hooper said: "It's just ridiculous. If you took a walking cane away from a blind adult, you would say that was discrimination. It's the same here."
Instead of using the cane, which was donated by the Common Sense Cane charity, the school is demanded Lily-Grace have adult support with her "100 percent" of the time, something Lily-Grace's mother branded "ridiculous."
Jo Dent, headmistress of the school, said the school is discussing the situation with the Hooper family.
"The school's mobility officer raised health and safety issues around the new cane following a recent risk assessment," she said.
"The pupil has not been banned from bringing in their [sic] cane, we have simply asked them to not use it around school as a temporary measure until we have the chance to meet with the parent and discuss the situation."