'Run, hide, tell': Police share advice for surviving armed attack (VIDEO)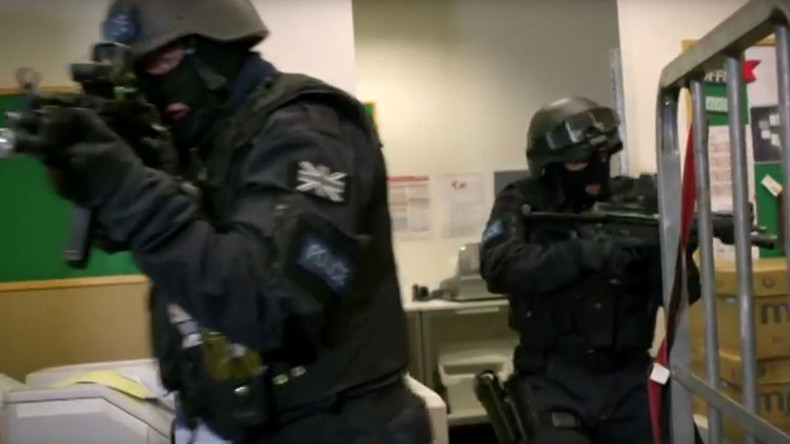 To survive an armed attack at work or in a public place, people should remember to run, hide and then tell, according to new advice released by police in a short video.
The survival steps are being promoted by National Counter Terrorism Policing, which instructs people to "run, hide and tell" if faced with a deadly armed assault like that seen in Paris in November.
"The public should not be alarmed by this step," Deputy Assistant Commissioner Neil Basu said in a blog on the National Police Chiefs' Council (NPCC) website.
"While the general level of threat to the UK is severe, the probability of being caught up in a firearms or weapons attack is very, very small.
"However, it is important the public know what to do in the event of getting caught up in such an incident," he added.
Those who come under attack are told to first of all run away and, if possible, hide in a secure place behind a solid barrier. They are then told to tell the authorities about the nature of the attack, the numbers involved and the weapons used.
The 'tell' part of the instructions also indicates that they should tell other civilians near the incident so they can avoid becoming involved in it.
Since the Paris attacks, fears of a terrorist incident have risen in the UK, as have arrests in connection with terror offences.
In early December it was reported terror suspects are being arrested at a record rate. Some 315 have been taken into custody in the past year, including a significant number of women and teenagers.
Arrests of female suspects doubled to 50 in the year up to September 2015 compared with the previous year, while the number of under-18s arrested increased from eight to 15.
There was a 31-percent rise in the number of suspects arrested for international-related terror offences, as security services sought to counter the terror threat emanating from Islamic State (IS, formerly ISIS/ISIL).