Muslim schoolgirl explaining Islamophobia after Paris attacks goes viral (VIDEO)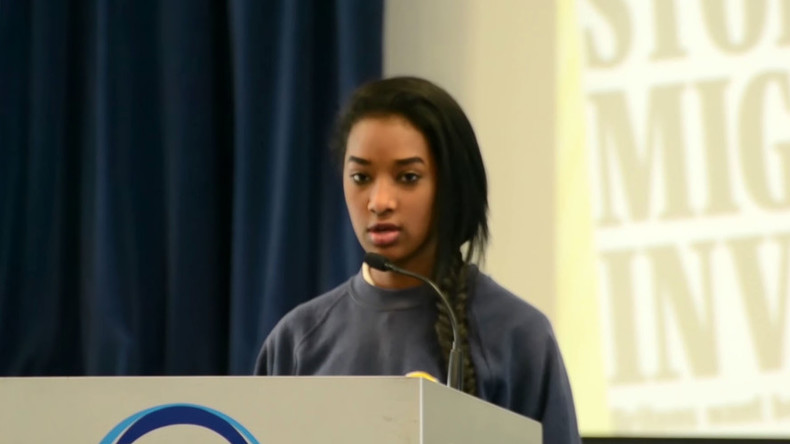 A Muslim schoolgirl who was labeled a terrorist after the Paris attacks has spoken out against Islamophobia in a school assembly. Footage of the speech has been viewed thousands of times online.
Isra Mohammed, 15, gave the inspiring school assembly speech after her seven-year-old sister was blamed for last month's atrocities in France.
She delivered the five-minute speech explaining the true values of Islam to all 1,900 pupils and 340 staff at Kenton School, Newcastle.
The talented speaker, who is studying for her GCSEs, told her classmates she and her siblings had been bullied for being Muslim since the Paris attacks.
"People come to me telling me that because I am a Muslim, I am a terrorist.
"I have a seven-year-old sister who came home from school crying, when I asked why, she said people in school were blaming her for the Paris attacks, she said that she didn't want to go back.
"I have a brother in year seven, he got bullied as people were telling him your religion is killing people."
Isra, who aspires to be a doctor like her father, said people who carry out anti-Muslim hate crimes are doing exactly what Islamic State (IS, formerly ISIS/ISIL) wants them to do.
"[IS] has one goal. They want countries like ours to reject Muslims.
"They'll be ecstatic and happy to hear that since the events that took place in Paris, France, Muslims have reportedly been threatened and attacked in the UK, America, Australia and all around the world."
"This evil organization have in their minds, if they can get Muslims [to be] the enemy of the West, then Muslims in France, the UK, America and Australia will have nowhere to turn, but to [IS]."
Isra said anyone using social media to spread hate is "helping ISIS."
English and media studies teacher Jessica Griffiths told the Independent the school is "incredibly proud of [Isra]."
"She has inspired so many people, we are just incredibly proud of her.
"I helped her a little bit, and her family helped but the majority came from her. She put the work in, she rehearsed it and she spent hours preparing it and she delivered it absolutely brilliantly," she added.