24 'illegal immigrants' found in refrigerated truck on Cambridgeshire road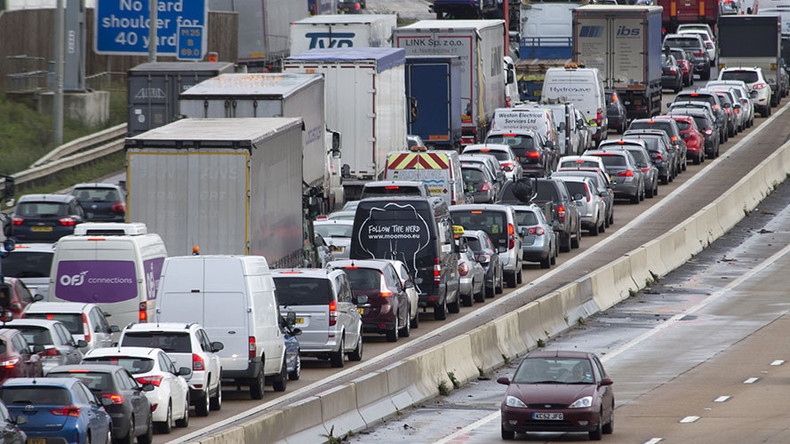 Traffic was brought to a standstill on a major road in Cambridgeshire after police found 24 suspected illegal immigrants in the back of a refrigerated truck.
Police closed lanes on the A14 westbound at Junction 31 following the discovery, according to local radio station Heart Cambridgeshire.
A caller told BBC Radio Cambridgeshire journalist Sam Edwards they saw a man being "resuscitated" beside the lorry.
A spokeswoman for Cambridgeshire Constabulary confirmed the incident.
"We were called today at 9.31am by Essex Police to reports of people in the back of a refrigerated lorry," she said.
"The vehicle was located by Cambridgeshire police officers at approximately 10am on the A14 and has been pulled over into a layby on the A14 by the crematorium just before Bar Hill, on the westbound carriageway.
In a statement Cambridgeshire police said that of the 22 people detained, 14 have been sent to Thorpe Wood Police Station in Peterborough and eight have been taken to Kings Lynn.
"Two were unwell and have been taken to Addenbrookes hospital in Cambridge to receive medical treatment, taking the total number 24," the statement added.
Contrary to earlier reports which indicated some people had fled the scene, police say they have detained all persons in the lorry.
The passengers are believed to be of Iranian and Kurdish origin.
Eyewitnesses report seeing at least 10 police cars at the scene, according to Edwards.
One truck driver quoted by local newspaper the Herts & Essex Observer said congestion is building on the M11 motorway due to the road closure.
He reported seeing what he believed to be a group of illegal immigrants being removed from the back of a truck, near to the Cambridge City Crematorium and Huntingdon Road Cemetery, and said emergency services are at the scene.