London man shot by police 'set up by Turkish mafia,' gang mediator tells RT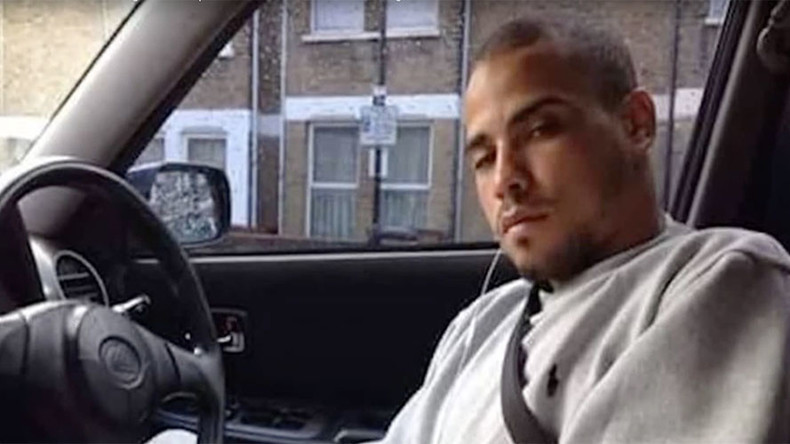 Murder charges could be brought against a police firearms officer who killed a man in north London last week. Scotland Yard has organized a last minute meeting with community groups to diffuse tensions and prevent anti-police riots.
Jermaine Baker, 28, was shot dead during a police operation on Bracknell Close in Wood Green last Friday. Police believed he was in a gang called 'Bloodline' and preparing to spring two Turkish gangsters from a prison van.
A single bullet killed the father-of-two as he attempted to flee in a black Audi parked near the Crown Court. Witnesses claimed Baker "came out firing" before he was shot, but it has emerged the gun he was allegedly carrying may have been fake.
'Suspended'
The officer responsible for pulling the trigger was suspended on Monday after the Independent Police Complaints Commission (IPCC) launched a criminal homicide investigation into the fatal shooting.
In a statement the IPCC said: "The Independent Police Complaints Commission has launched a homicide investigation into Mr. Baker's death. The launch of a criminal investigation does not mean that criminal charges will necessarily follow."
This could see the officer face murder or manslaughter charges.
The Metropolitan Police said it has implemented the IPCC's recommendation to suspend the firearms officer.
Scotland Yard called an urgent meeting with community groups on Tuesday to find out the exact circumstances of Baker's death.
'Officer deserves a murder charge'
However, community leader and gang mediator Ken Hinds, who is close to Baker's family, told RT he had not been invited to the meeting, but thinks the officer "deserves a murder charge."
"The police murdered another innocent man. Jermaine was not a threat to anyone, he didn't threaten police with a gun," Hinds claimed.
"He's not no gangster."
Hinds insisted police were either unaware of the real circumstances behind the incident, or the officer who shot Baker was "not trained properly."
"If the [officer] is not of the right caliber, they should not be doing the job. This is a matter of life and death."
Explaining why Baker was involved in the plot to free the gangsters, Hinds claims he was set up by a powerful Turkish mafia who are "involved in a heroin trade."
Hinds alleges members of the group forced Baker to work for them.
"When the mafia comes to you and tells you to do something, you have to do your part, or they will kill you," he said.
"[Baker] probably had no idea he could have been killed for this," he added.
The gang mediator further questioned why police failed to target the mafia and instead killed someone allegedly forced to work for them.
'Devastated'
When asked if tension is starting to rise in Haringey, Hinds said: "It is beginning to rise as people get more facts of what really happened. This man was another victim, he was a family man with two young children."
"Jermaine's family are devastated."
It has been suggested that Baker was affiliated with Mark Duggan, a 29-year-old whose killing by police sparked riots in England in 2011.
However, activist and Tottenham Rights coordinator Stafford Scott said this is an "ill-informed and scurrilous allegation."
"The fact that a specialist armed officer has been suspended, which is unprecedented in this country, will certainly feed into the local narrative that says that the police have a vendetta against Tottenham's black community," he told RT.
'Baker's death will be thoroughly examined'
On Monday evening, the Met's Deputy Assistant Commissioner Peter Terry said: "The exact circumstances that led to Mr. Baker's death must be thoroughly and independently examined.
"It is only through establishing the full facts, as quickly as possible, as to what took place that day that the best interests of justice and of all those affected can be served."
Four men were arrested when Baker was killed. They were remanded in custody over Christmas and are to appear at Wood Green Crown Court on January 4.