Brits split 50/50 over leaving EU – new poll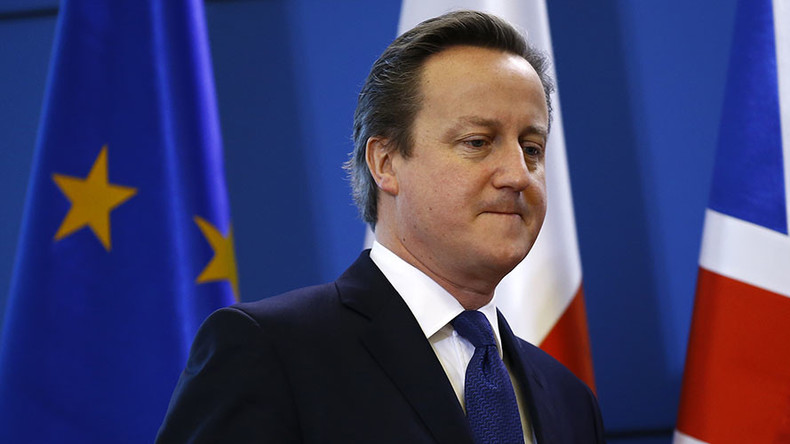 Public opinion on whether Britain should leave or remain in the European Union (EU) is evenly split, according to a new poll, raising the stakes for Prime Minister David Cameron to secure meaningful concessions from Brussels in a summit later this week.
An ICM survey published on Tuesday for the Vote Leave campaign shows support for Brexit is at 41 percent, while 42 percent are in favor of remaining in the EU.
When undecided voters are taken out, the poll shows a 50/50 split – the first time an ICM survey has returned an even split in more than two years.
The poll indicates the majority of Brits would back Brexit if Cameron fails to achieve reforms to freedom of movement rules – 45 percent said they would vote to leave and 40 percent would opt to stay in.
The survey of 2,053 voters also found 65 percent of those who describe themselves as "enthusiastic" about the EU referendum were in favor of leaving.
Growing support for a 'Brexit' will bolster the PM's case for reform ahead of a key summit in Brussels on Thursday and Friday, where he will seek to gain concessions from EU leaders.
The results will strengthen Cameron's position, as he is likely to warn EU states that British people are seriously considering Brexit unless his demands are met.
Cameron's most controversial demand is to restrict benefit payments to EU workers in the UK, a request which has met with widespread opposition from eastern and southern European countries.
Foreign Secretary Philip Hammond admitted on Monday that none of the 27 EU member states had offered an alternative to Cameron's proposal to restrict benefit payments to EU workers.
The PM faces an uphill struggle to strike a deal with all 27 EU states at the next summit in February. Timing is crucial for Cameron, who has set out his plans to hold a referendum on Britain's membership of the EU before the end of 2017.
The pro-EU think tank Centre for European Reform has created a map which indicates support and opposition for Cameron's proposed restriction of worker access to benefits.
Cameron's hopes for reform were dealt another blow on Monday, when the cross-party EU Scrutiny Committee warned Cameron's proposals will require EU treaty change, a major political feat that would not be achievable before the 2017 deadline.