Ireland strict abortion laws force 25,000 to visit UK clinics over 5yrs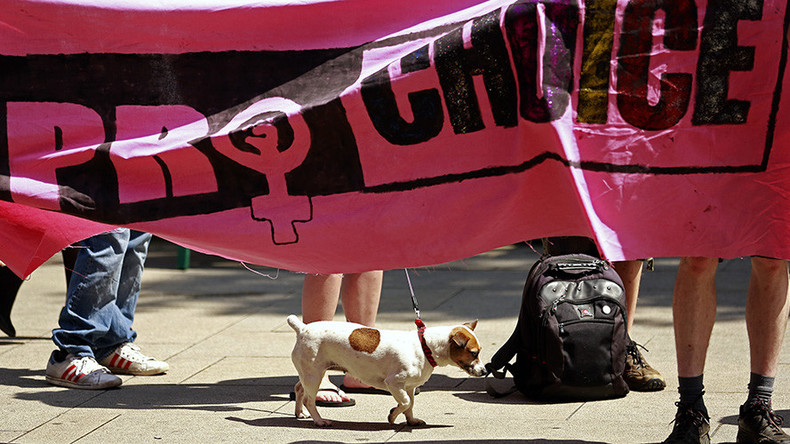 Almost 25,000 women from the Republic of Ireland and Northern Ireland have been forced to have abortions in England and Wales at a rate of nearly 100 terminations per week over the past five years, new data has shown.
These figures include some 152 girls aged under 16 from the Republic and 69 girls from Northern Ireland.
Human rights campaigners blame conservative abortion laws in both jurisdictions for the large number of women traveling overseas for terminations.
The figures were obtained from the UK Department of Health by Belfast-based investigative journalism project Detail Data.
Manchester was the most popular destination for women traveling for abortions from 2010-2014, accounting for 45 percent of all terminations.
Thirty percent of all the abortions took place in Marie Stopes International Manchester, a specialist clinic south of the city.
The cost of treatment ranged from £400 to £1,500 according to Detail Data, with travel and accommodation costs on top of that.
Belfast woman Sarah Ewart described the "terrible" experience of traveling for an abortion after learning at her 20-week scan that her baby girl was likely to die shortly after birth.
"It was terrible going to a place I didn't know, to people I didn't know and not having the full support of my consultant, medical staff and my full family around me. It made a terrible situation so much worse," she wrote.
Northern Ireland's abortion law – which prohibits termination even in cases of pregnancies resulting from rape or incest – was ruled incompatible with human rights law by Belfast's High Court last month.
Abortion is illegal in the Republic of Ireland, except where a pregnancy presents a real and substantial risk to a mother's life.
Amnesty International's My Body My Rights campaigner Grainne Teggart said legal restrictions are forcing women into desperate situations.
"These findings once again prove that restrictive abortion laws in both the Republic of Ireland and Northern Ireland don't prevent women and girls from having abortions.
"Abortions not being lawful doesn't mean that women and girls don't have abortions, it means that they either resort to desperate, sometimes dangerous, measures or they seek those services elsewhere at great financial and emotional expense."
Amnesty International Executive Director Colm O'Gorman said the draconian laws violate the human rights of women and girls.
"Abortion laws in both jurisdictions fall desperately short of even the minimum standards required by international human rights law. They violate the human rights of women and girls, forcing those who can travel to go overseas and seek compassionate, professional care outside their own country.
"It's time for governments north and south to end the hypocrisy of laws which criminalize women at home and don't even meet their stated aim of preventing abortions. They can no longer turn a blind eye to the human rights abuses caused by those very same laws," he added.