'Why I threw down my medals on Downing Street': Libya war veteran speaks to RT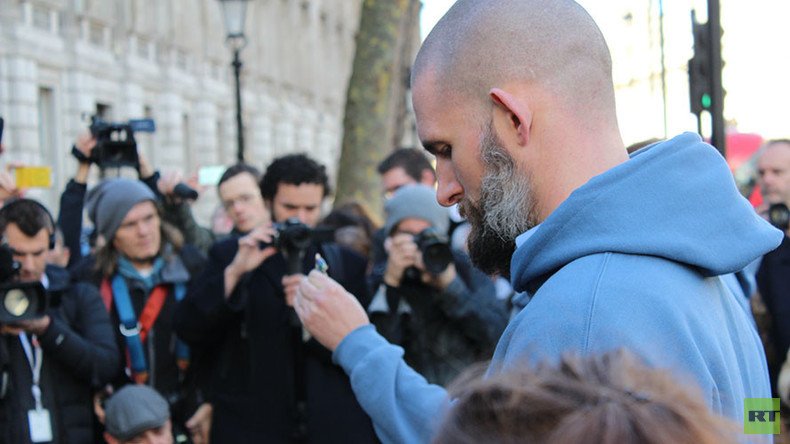 Royal Air Force veteran Daniel Lenham served in Iraq and later in Libya during the 2011 NATO intervention. Ahead of his full interview on RT's Going Underground, he explains why he threw his medals down on the pavement outside Downing Street.
Lenham said the act of casting aside his decorations left him feeling empowered. He found the experience "therapeutic."
"If I am honest, it was an emotional event and part of a process I am on," he said.
Lenham saw it as an opportunity to express his disgust at the government's "insane folly" of bombing Syria.
Lenham was among four ex-servicemen from Veterans for Peace UK to throw down their medals in protest. The group held a similar ceremony in July. Tuesday's act, however, was directed at parliament's decision last week to launch airstrikes on Syria.
Asked what he made of the Syria vote, Lenham blasted the MPs who brought the UK into another Middle East conflict.
Veterans throwing their medals back is absolutely disgusting and disrespectful

— Pete Jones (@WelshBrah) December 8, 2015
"If they are voices of the people, they are not listening," he said, adding that the vote highlights a "detachment between politicians and people."
Libya veterans rarely speak out, but Lenham described in detail his part and thoughts on the 2011 mission to overthrow Colonel Gaddafi.
As the head of a weapons loading team, responsible for attaching bombs to RAF jets at an Italian airfield, Lenham began to doubt the morality of the mission.
Though he had been "bombed and rocketed" in Iraq, it was in relatively secure Italy that his views changed.
"What is this bomb going to achieve," he found himself wondering, as he loaded up Typhoon jets for their sorties.
"Someone is doing my job for Syria now," he reflected, hoping they too would reach his conclusions on war.
"We must direct our communications at weapons loaders, technicians, chefs and drivers," he said.
Veterans for Peace UK told RT that up to fifteen former military personnel have signed up to its cause in the last few days, bringing its membership to around 280.
Daniel Lenham's full interview with Going Underground's Afshin Rattansi airs on Wednesday at 11:30, 14:30 and 21:30 GMT on RT.
You can share this story on social media: