Terrorists could use drones to down planes, security adviser warns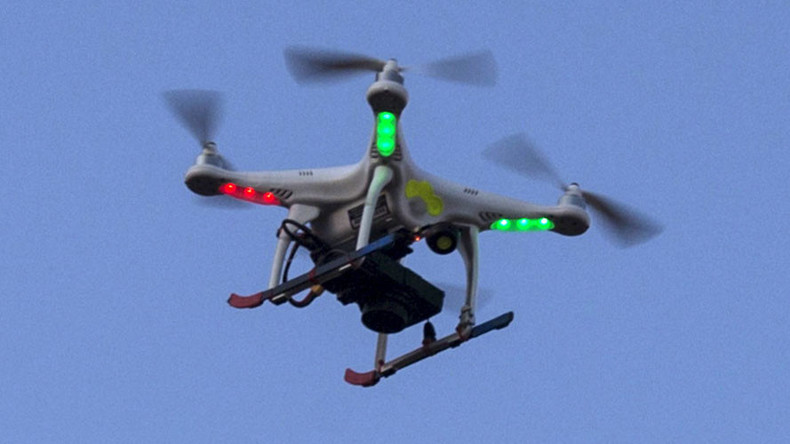 Commercial jets run the risk of being struck by drones flown too close to them, either accidentally or in a planned terror attack, a government defense specialist has warned.
Civilian drones operated by amateurs have been spotted dangerously close to planes at heights of up to 5,000ft near British airports, the Sunday Times reports. There were seven near-misses recorded between July 2014 and July 2015.
"This is happening on a weekly basis," Home Office counter-terrorism expert Colin Smith said. "We are not just talking about hundreds of feet [in the air], we are talking thousands. People are flying drones in the path of aircraft, having a look, seeing if they can get alongside the cockpit to see what is going on."
Smith also suggested terrorists may deliberately fly drones into plane engines or land a drone carrying a bomb onto a plane on the ground.
He also said drones may be used to spread extremist propaganda, referring to an incident which saw a "Greater Albania" flag flown by a drone above the pitch during a Euro 2016 football match between Serbia and Albania last year. The incident sparked violence and put a premature end to the match.
"As an embarrassment factor, change that to [an Islamic State] flag and fly that down Whitehall during Remembrance Sunday. Who's going to be able to stop that flag being flown? It is a real and current problem."
The Civil Aviation Authority said: "Drone users have to understand that when taking to the skies they are entering one of the busiest areas of airspace in the world — a complex system that brings together passenger airplanes, military jets, helicopters, gliders, light aircraft and now drones.
"The rules for flying drones are designed to keep all air users safe. Anyone flouting these rules can be charged and prosecuted and any drone user found guilty of endangering an aircraft could face imprisonment."
You can share this story on social media: