Red warning: Storm Desmond to cause more damage as it rampages through UK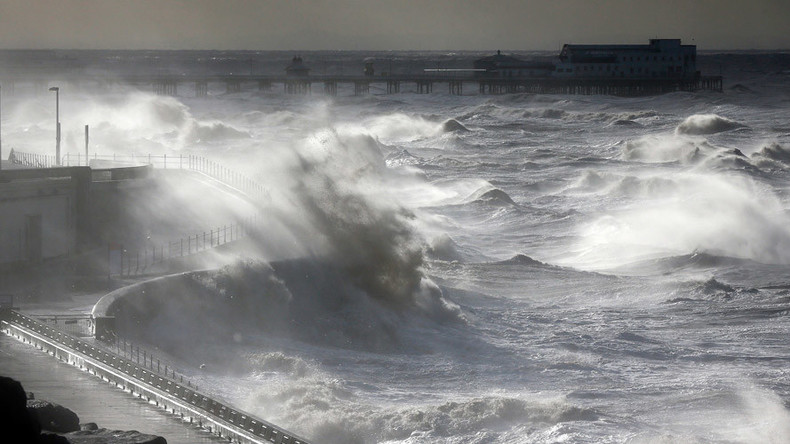 The UK government has issued over 40 severe flood warnings and opened up evacuation shelters in northern England, Wales, and southern Scotland, as Storm Desmond comes in from the Atlantic.
The most heavily affected by parts of the country, such as Cumbria and Lancashire, have seen more than a month's worth of rain in less than 24 hours, causing severe flooding as rivers overflow. Though average rainfall for all of December is 146.1 millimeters in Cumbria, places like the village of Shap were hit with 178.2 in just a single day.

While forecasts say the torrential rains will weaken by Sunday morning, Cumbrian rivers are expected to swell further until at least noon on Sunday. Winds of speeds exceeding 140 kilometers per hour are also expected to rage in parts of the country.
"Given saturated conditions and high river levels from recent rainfall, further flooding is expected," said a statement from the Met Office issuing its highest level of alert. The warning told people in Cumbria and southern Scotland to "take action to remain safe and protect property."
At least 60,000 properties are at risk of experiencing power cuts in Lancaster alone, according to Electricity North West. Engineers have been working to safeguard the supplies.
Weather forecasters say some areas have been hit worse than at any time in the past decade, in what is expected to be the worst storm of 2015.
Cumbrian police have declared Storm Desmond a "major incident," and set up reception centers in town halls and leisure complexes, as entire villages have been evacuated. Many of the people had to be rescued from – or decided to voluntarily abandon – their own cars, with emergency services complaining that stationary vehicles on the road were making it harder for them to provide help.
Roads and bridges have been closed and trains cancelled in many of the affected areas. Passengers from a train that was stranded at Carlisle station were forced to sleep in coaches, as all of the hotels in the city were fully booked. Emergency foil blankets and hot drinks have been provided to them.
Ireland has also borne the brunt of the extreme weather, forcing dozens of flights to be rescheduled in Dublin alone.
Football and rugby matches, as well as other outdoor events, have been canceled throughout the affected regions.
At least one person is thought to have died as a direct result of the storm. A 90-year-old man in North London was killed when he was "blown into" the side a moving bus by a strong gust of wind.
Meanwhile, not everyone has been taking the elements seriously enough, as a video has emerged showing two Irish teenagers jumping into a stormy sea from a pier in Galway. The video, which has been reposted and gone viral, has mostly garnered negative comments, with people calling the teens "idiots" and "morons" for risking not only their lives, but also potentially the lives of emergency workers already busy with rescuing other lives.