ISIS feels 'full force of RAF': UK destroys 8 targets in second night of Syria airstrikes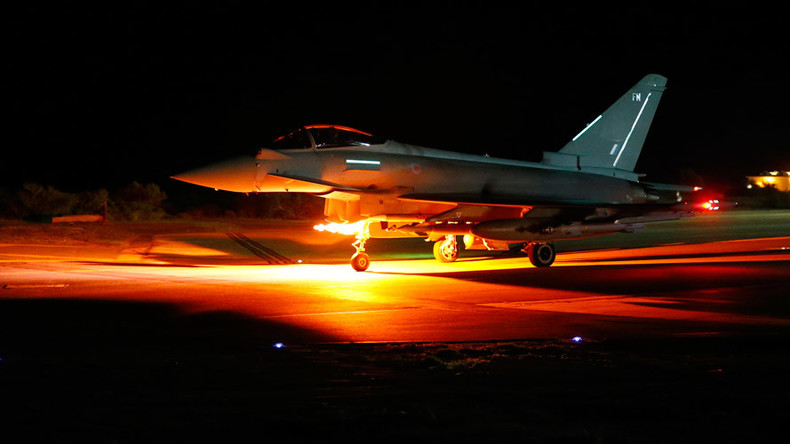 Two British Typhoons and two Tornados attacked oil fields operated by Islamic State in Syria on Saturday morning, in the second mission since the UK parliament extended RAF's operational area in the Middle East, and the first involving Typhoon bombers.
"Last night we saw the RAF Typhoons, which have only just arrived here from Scotland, striking successfully for the first time within 24 hours or so of their arrival, which is a pretty impressive achievement," Michael Fallon, the defense secretary, told Sky News at the Akrotiri base in Cyprus, from where the sorties are being flown.
"Last night saw the full force of the RAF," he added.
Using data collected by Royal Air Force the night before, "the Tornados and Typhoons used Paveway IV guided bombs to hit wellheads, thus cutting off the terrorists' oil revenue at the very source," according to the Ministry of Defence. Officials said that "early reports" deemed the strikes "successful," and that after launching their rockets, the planes stayed behind to gather intelligence for future attacks.
"We are going to use force against them in the headquarters, their command and control, their logistics, but also in the infrastructure that supports them. We are going to do our very best to minimize civilian casualties," explained Fallon.
The UK has been striking Islamic State (IS, formerly ISIS/ISIL) targets in Iraq since September last year, but the decision to extend operations into Syria provoked a heated debate between British Conservatives and a renewed Labour party now led by Jeremy Corbyn, who has long opposed foreign interventions by the UK government.
The new air campaign was approved in a 397-223 vote, following a 10-hour debate in the British parliament on Tuesday.
"Nobody likes strikes, nobody likes warfare, but when you're dealing with people who are not negotiating with you but simply want to kill as many Westerners or Brits as possible, then you have to use force," said Fallon. "You are now able to hit the Daesh [Arabic acronym for ISIS] on both sides of that border – Syria and in Iraq. And you are able to hit them harder. That's why we have doubled the strike force available to you."
In total, the UK is deploying 10 Tornado GR4 strike aircraft, 6 Typhoons, 10 Reaper drones, and two large spy planes in the region. It is part of a large coalition that includes the US, Germany, France and major Sunni regional powers.
Hisham al Hashimi, an expert on Islamic State who advises the Iraqi government on the group, estimates that Western airstrikes have succeeded in reducing the amount of oil at IS' disposal in Iraq by as much as ten times, according to the Guardian. However, there has been no effective ground force to follow up on the attacks.
"This campaign is not going to be short or simple. We face a new kind of enemy that makes no demands, takes no hostages, doesn't want to negotiate," admitted Fallon.
Russia is conducting a separate campaign at the behest of Syrian President Bashar Assad, and has hit over 1,400 targets since September. It has enabled Syria to achieve greater territorial gains, with its regular troops advancing on areas softened up by Russia's attacks.
You can share this story on social media: