Violence against women: 'Your cuts are sexist & dangerous,' activists tell Tories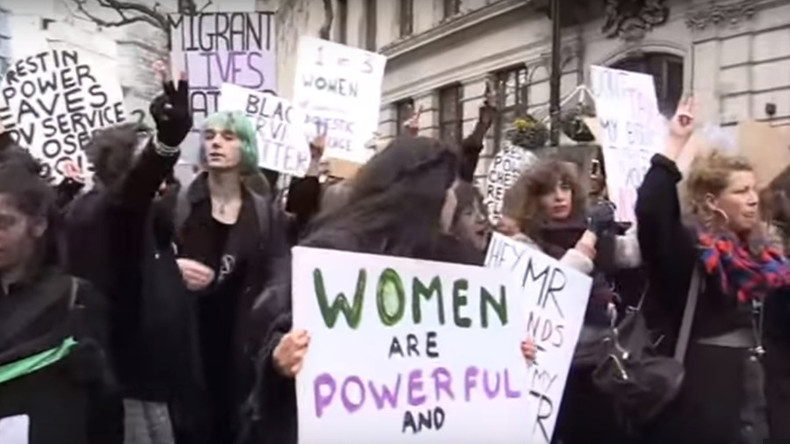 Services designed to protect women from domestic violence and sexual abuse have suffered cuts of more than 50 percent since Prime Minister David Cameron took office in 2010. Figures suggest women are bearing the brunt of austerity.
Support services are currently funded by local authorities, propped up by central government grants. Since coming to power, initially in coalition with the Liberal Democrats in 2010, the Conservative government has dramatically reduced these grants by 56 percent.
Senior figures in local government have condemned the assault on services for the most vulnerable. West Sussex County Council leader Louise Goldsmith has called the move "a cut too far."
Women's health services are already strapped for cash. Victims are being turned away by refuge centers, which simply do not have the resources to cater for demand.
In an official document published earlier this year, the Home Office said it is "determined to support victims in rebuilding their lives." However, up to a third of domestic abuse victims are being refused help and two women per week are killed at the hands of violent partners.
Furthermore, it is estimated 100 specialist professionals have been lost from the sector. The closure of Eaves, an abuse refuge, in October this year is a sign of the decline in support available for women fleeing violent relationships.
In a bid to make up for the damage successive budgets have caused such services, Chancellor of the Exchequer George Osbourne announced in his Autumn Statement that the new 'Tampon Tax' will help fund women's health charities.
The irony wasn't lost on women's advocacy groups. Some 300,000 people signed a petition opposing the tax, arguing sanitary products must not be taxed as luxury items.
Outrage was particularly imparted on the insinuation that domestic abuse is purely a women's problem and therefore should be paid for by women. The Crown Prosecution Service states that 94 percent of domestic abuse defendants are men.
As austerity measures appear to disproportionately hurt women, campaigners have responded with nationwide protests. Sisters Uncut, a feminist campaign group, occupied Trafalgar Square last Sunday, staging a mock funeral for those impacted by cuts.
Highlighting the violence perpetrated against women, protesters dyed the water of Trafalgar Square's ornate fountains blood red.
The group demands an end to cuts and calls for urgent, far-reaching reinvestment in support services.
"To those in power, our message is this: your cuts are sexist, your cuts are dangerous, and you think that you can get away with them because you have targeted the people who you perceive as powerless," the group claims in its manifesto.
By contrast, domestic abuse charity SafeLives welcomed the chancellor's plan to funnel funds raised by the Tampon Tax into women's causes. The charity itself stands to benefit, with a £2 million investment in a joint initiative with Women's Aid on the cards.
The 'Sooner the Better' project will help develop early intervention. SafeLives Chief Executive Diana Barran hopes "this initiative will work to get it right first time for victims and their children."
While supporting Osborne's plan, Women's Aid Chief Executive Polly Neate told RT: "The cuts to refuges and other domestic abuse services have been devastating."
"Sisters Uncut made sure that they could not be ignored, and we wholly support the issue of domestic abuse service cuts being brought to the forefront of people's minds," Neate added.