Spoils of war: Arms giants see stocks rocket after Syrian airstrikes vote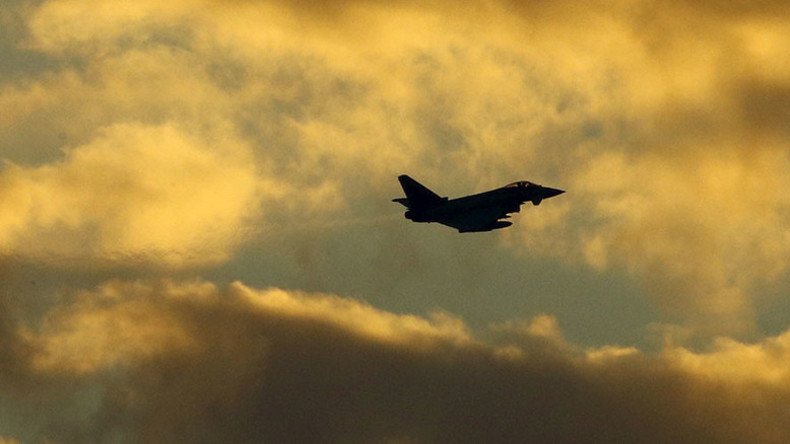 The share prices of major international arms traders jumped in the wake of the British parliament's decision to extend its aerial bombing campaign against Islamic State (IS, formerly ISIS/ISIL) from Iraq into Syria.
Stock values at BAE Systems, Airbus, Finmeccanica and Thales all soared as trading began on Thursday morning, CommonSpace reports. It comes as Britain prepares to spend millions more on its war with IS, and as an international collaboration against the terror group looks ever more likely.
BAE Systems leapt four points at the start of trading on Thursday. The jump comes as the arms trader's value increased by 14 percent following the terror attacks in Paris which left 130 dead and over 300 injured.
Britain announced it is boosting its military spending and introducing a range of new security measures in the wake of the Paris attacks.
Aircraft firm Airbus, which develops the British Typhoon fighter jet, is also trading 1.5 percent up since the stock market opened on Thursday.
Italian arms dealer Finmeccanica has also seen its shares rise by 2 percent.
Andrew Smith of Campaign Against Arms Trade told CommonSpace that arms companies are cashing in on the bloodshed.
"Unfortunately, where most of us see war and destruction, the arms companies see a business opportunity. It is conflict and military intervention that fuel arms sales, and companies like BAE are only too happy to cash in from it. These companies don't care who uses their weapons or the damage they cause, the only thing they care about is profit."
Prime Minister David Cameron warned on Thursday that British military action in Syria will be complex and take a long time.
"This is going to take time. It is complex and it is difficult what we are asking our pilots to do, and our thoughts should be with them and their families as they commence this important work," he added.
On Wednesday evening British bombers hit seven IS targets in eastern Syria, including oil fields used to supply the terror group with vital funds.
Defence Secretary Michael Fallon said the airstrikes had dealt IS "a real blow," and added that British planes would not initially be targeting urban areas like Raqqa.
"I can confirm that four British Tornados were in action after the vote last night attacking oil fields in eastern Syria – the Omar oil fields – from which the Daesh (IS) terrorists receive a huge part of their revenue."
"This strikes a very real blow at the oil and the revenue on which the Daesh terrorists depend," he told the BBC.
You can share this story on social media: