Cost of bombing Syria 'would be in low tens of millions' – George Osborne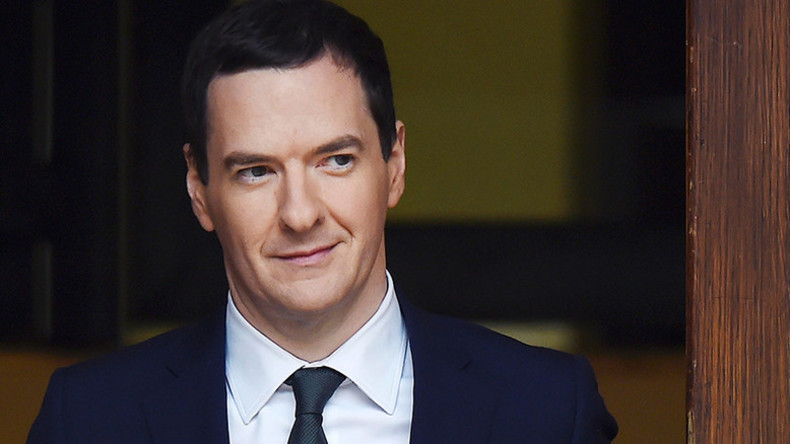 British Chancellor George Osborne claims the cost of launching airstrikes against Islamic State (IS, formerly ISIS/ISIL) in Syria would be in the "low tens of millions of pounds."
"I think the estimate of extended air action over Syria would be in the low tens of millions of pounds," Osborne told a committee of lawmakers on Tuesday.
"That'll come out of the special reserve which we established for the purposes of military action like this."
Airstrikes against IS in Iraq currently costs over £200 million (US$301 million) a year, he said.
Royal United Service Institute (RUSI) research director Malcom Chalmers said the total cost of the UK bombing IS would depend on the intensity and length of the operation.
He told CNN he would expect the cost of IS airstrikes to be in the "ballpark" of the UK's seven-month involvement in the Libya operation in 2011, which cost around $390 million.
The Campaign for Nuclear Disarmament (CND) said it is skeptical of the Chancellor's claim.
"The proposed bombing campaign in Syria is very similar to the bombing of Libya in 2011," a spokesperson told RT.
"In Libya the bombing operation was quickly extended to military personal being sent in to support rebels fighting Gaddafi on the ground. The bombing didn't produce the results the government hoped for, so mission creep ensued. We know that operations in Libya cost up to £1.5 billion.
"I think we can expect similar mission creep in Syria, which will inevitably raise the costs involved."
However, it added the cost of bombing Syria is not why many oppose it.
"We oppose bombing Syria because it will not reduce the threat of terrorism – actually, it will increase the threat of terrorism.
"What began in 2001 as a war to eliminate relatively small numbers of al-Qaeda terror cells in Afghanistan, extended to Iraq, Libya and now Syria, and it has created chaos wherever it has been extended.
"It is that instability and chaos which is a breeding ground for terrorism, and it's completely mad to think more of the same will produce different results."
Prime Minister David Cameron is determined to extend airstrikes into Syria.
Last week, the PM said bombing Syria will make Britain safer, adding the nation will "never be safe" until the jihadist group is defeated.
Supporting the PM's plans, Defence Secretary Michael Fallon said bombing Syria would help to counter the growing international terror threat posed by IS. However, he admitted "airstrikes alone" will not destroy the group.
The bombing campaign against IS militants in Syria could start before Christmas, Osbourne indicated last week.
Critics, however, argue that bombing Syria will make matters worse, resulting in civilian casualties and driving more recruits into the arms of extremists.
Opposing the plans, Labour Leader Jeremy Corbyn said Cameron "failed to show" bombing Syria would make Britain safer.
"He [Cameron] knows that opposition to his ill-thought-out rush to war is growing," he wrote in the Guardian.
"The prime minister has been unable to explain why extending airstrikes to Syria – which is already being bombed by the US, France, Russia and other powers – will make a significant military impact on a campaign that has so far seen Isil gain territory, such as the cities of Ramadi in Iraq and Palmyra in Syria, as well as lose it."
MPs will vote on whether to bomb IS targets in Syria on Wednesday.
The PM says he is "confident" he can secure Parliament's approval.