N. Irish abortion ban 'violates human rights' – High Court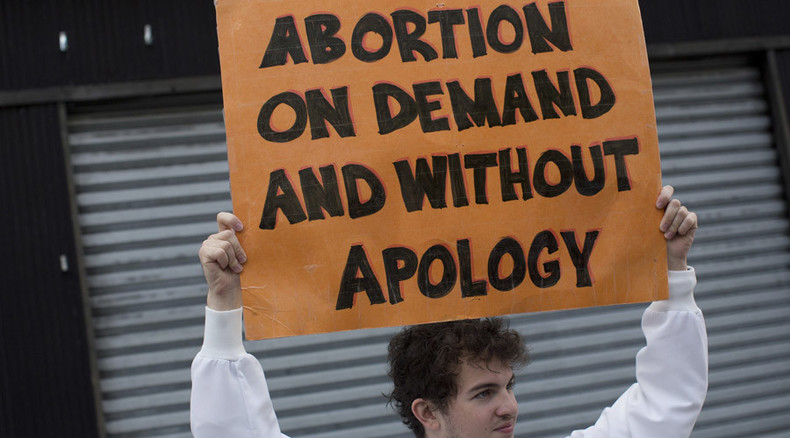 Belfast High Court has ruled that Northern Ireland's outright ban on abortion even in cases of rape and incest is "incompatible with human rights."
The watershed judgment, delivered on Monday, may pave the way for loosening the stringent abortion restrictions in the area, which is the only part of the UK to which the 1967 Abortion Act does not extend.
At present, abortions are only allowed in Northern Ireland if the mother's life is in danger or if there is a permanent or serious risk to her health. The current law, which dates from 1861, stipulates that medical professionals caught providing abortion services in any other cases should be jailed for life.
Monday's ruling will extend abortion rights to cover victims of sexual crime and cases of fetal abnormality.
In his ruling, Justice Mark Horner said: "In the circumstances, given this issue is unlikely to be grasped by the legislature in the foreseeable future, and the entitlement of the citizens of Northern Ireland to have their convention [European Convention on Human Rights] rights protected by the courts, I conclude that…women in Northern Ireland who are pregnant with fatal fetal abnormalities or who are pregnant as a result of sexual crime are breached by the impugned provisions."
Horner suggested that due to the legislature's inaction on the issue, it might be necessary to hold a referendum to put his ruling into force.
The Northern Ireland Human Rights Commission (NICHRC), who brought the case to the high court, welcomed Horner's decision.
"Today's result is historic, and will be welcomed by many of the vulnerable women and girls who have been faced with these situations," the head of the NIRC Les Allamby said.
"It was important for the commission to take this challenge in its own name, in order to protect women and girls in Northern Ireland, and we are delighted with the result."
Amnesty International 'My Body, My Rights' campaign director Grainne Teggard said: "Today's High Court decision is a hugely significant step towards ensuring the right to access abortion for women and girls in Northern Ireland who have been raped, are victims of incest or whose pregnancies have been given a fatal fetal diagnosis.
"Northern Ireland's abortion laws must be brought into the twenty-first century and into line with international law as a matter of urgency."
More than 1,000 women travel from Northern Ireland to access abortion services in England each year, according to Department of Health figures. Northern Ireland women are also not eligible for NHS funded abortions, and must pay for the procedure – an estimated £900 (US$ 1,500) – out of pocket.