Fake ambulances smuggle £1.6bn of cocaine & heroin into UK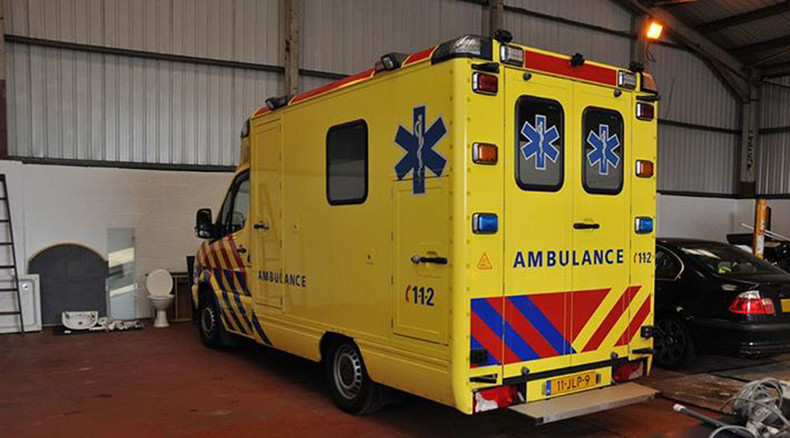 A ring of creative cocaine runners from the Netherlands to the UK has been convicted of supplying British drug lords with £1.6 billion ($2.4bn) worth of narcotics, by carefully disguising them inside a fleet of fake ambulances.
"Three Dutch men have been convicted for their roles in supplying up to £1.6 billion worth of drugs to organized crime groups across the UK using a fleet of fake ambulances," the UK's National Crime Agency (NCA) said in a statement.
The fake ambulance company, based in Hoofddorp, North Holland, used smugglers posing as paramedics to infiltrate UK borders on least on 45 occasions. On at least one occasion a bogus patient was used to implement the scheme.
In coordination with the NCA and the Dutch National Police, the officers intercepted one of the ambulances back in June.
Two Dutchmen wearing fake ambulance uniforms were tracked down by the UK authorities as they made a drop off at a parking lot on June 16. The pair of fake paramedics was met by two accomplices that arrived in Smethwick, Birmingham in a Mercedes ambulance.
Searching through the van, NCA discovered 193 kilos of cocaine, 74 kilos of heroin, two kilos of crystal MDMA and 20,000 ecstasy tablets in the ambulance's interior panels, in cupboards and under the floor. All four men were arrested.
The drugs seized in June amounted to £38 million ($57mn) in street value. Each package seized was colored taped with colors which corresponded with those of some 20 customers on a list found inside of the car, for whom the drugs were intended.
"This was a highly specialist drug transportation service. By shutting it down the NCA and its partners have disrupted criminal activity across the UK. There will be some very frustrated high-level criminals out there who, given the size of their orders, will have lost a lot of money," said Rob Lewin, Head of the NCA's Specialist Operations Unit.
"The human cost of class A drug addiction is huge but these men, who made trip after trip, were motivated only by profit. We will now start to focus on stripping them of any assets," said Lewin.
Three of the four men in the scheme were convicted of playing a role in the smuggling operation. The latest conviction came Thursday when Birmingham Crown Court found 55-year-old Dutchman Leonardus Bijlsma guilty of "conspiracy to import Class A drug".
Following a two week trial, 28-year-old Dennis Vogelaar, who stood trial alongside Bijlsma was found not guilty.
The mastermind Olof Schoon, aged 38, who owned the company and directed the operation, as well as Richard Engelsbel, 51, pleaded guilty to the same conspiracy at an earlier hearing. All three smugglers will be sentenced next week.