Nigel Farage: 'UK may need to join Putin & Assad to battle ISIS'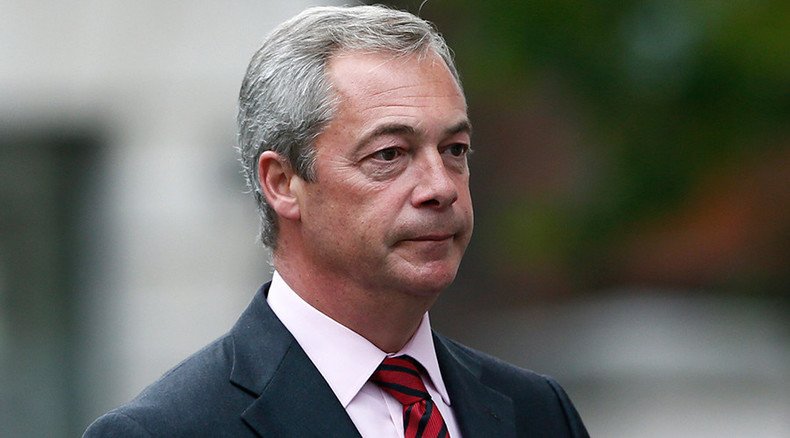 UK Independence Party (UKIP) leader Nigel Farage says Britain may need to work with Russian President Vladimir Putin and Syrian President Bashar Assad in the fight against the common threat posed by Islamic State (IS, formerly ISIS/ISIL).
Farage said he doesn't support Prime Minister David Cameron's plan to bomb Syria on the "current terms," adding the PM has a "poor record" on foreign policy.
Cameron presented his arguments in favor of extending the UK's bombing campaign against IS from Iraq into Syria in parliament on Thursday.
The PM urged MPs to vote in favor of escalating military action, arguing he has a "credible strategy" to defeat the terrorist group.
Speaking on LBC Radio on Friday morning, Farage seriously questioned Cameron's "coherent strategy" in Syria.
"I don't back bombing Syria on current terms," he said. "Whether we bomb or not we still face threat on London's streets."
"I think to go to war you need to be absolutely clear what your aims and goals are … There needs to be a long-term global strategy."
Farage said the war against IS needs a "grand coalition" in order to be successful. Asked if this would involve Russia, he replied: "How could it not be?"
The UKIP leader said Britain and Russia are on the same side in the battle against IS.
"The European Union, and the West, view Putin as the devil. They want to view Putin as the devil. I'm not saying I want take him around for tea and meet mum on Sunday afternoon … But the point is, on this bigger overall battle we need to start recognizing we're on the same side," he said.
Farage went on to suggest Britain may also need to work with Assad.
"You haven't got to like somebody to be their ally … If we're going to beat ISIS, we have to recognize Putin's on that side, and maybe we have to swallow really hard, Mr Cameron, and we have to say to ourselves perhaps even Assad is on that side as well.
"That question for the PM simply has not been answered," he added.
The UKIP leader, who has long been skeptical of British involvement in wars overseas, also reiterated his opposition to Tony Blair's invasion of Iraq.
He argued countries such as Iraq and Libya had become unstable as a result of Western interventionism.
You can share this story on social media: