£1m diamond crackers for richest 1%, Christmas austerity for the rest
Published time: 26 Nov, 2015 16:58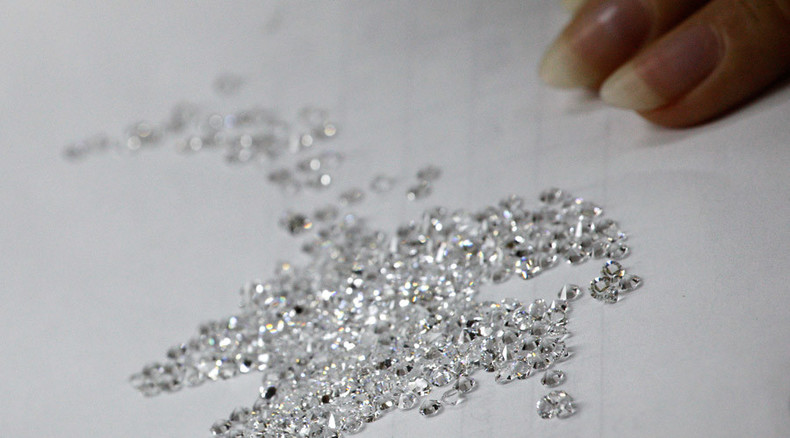 For the rich there is comfort and joy this Christmas – especially those of the 1 percent flush enough to splurge on the world's first diamond cracker. The £1 million set of six, created by company House of Crackers, each contain a diamond from London jeweler Tresor Paris.
For the uninitiated, Christmas crackers are cardboard tubes wrapped in colored paper and twisted at both ends. They contain two strips of chemically impregnated paper which cause them to bang when pulled apart. The crackers traditionally contain a paper hat, cringe-worthy jokes and basic gifts.
House of Crackers has taken this Christmas dinner table staple to an opulent new level. Each of the six diamonds is a different cut and sizes range from 2.5 carat to 3.5 carat. There's also a rare 'type IIa diamond' for one lucky customer.
Tresor Paris director Salim Hasbani said: "The recipients will be thrilled with the brilliance and clarity in each [diamond]. And we'll set each in a beautifully designed piece of jewelry."
As well as containing rare stones, plutocrat buyers will find the crackers are crafted from Indian paper, ribbon from Cheshire, poinsettia flowers and goose feathers.
House of Crackers co-founder David Snook said: "We have been involved in some extremely unusual cracker creations, but never anything quite as remarkable as this."
The crackers are on sale for an eye-watering £995,000 (US$1.5 million), which includes a £1,000 donation to youth charity The Prince's Trust.
If the £1 million price tag seems ludicrous, feast your incredulous eyes on the other luxury crackers on the market.
For a mere £600, a set of crackers from London's illustrious department store Fortnum & Mason contains an assortment of gifts "to luxuriate, to pamper and to enjoy," including face cream, bath bombs and body oil.
At a wallet-shredding £500, department store Harrods is stocking crackers filled with "luxury gifts including cashmere socks, cufflinks and leather accessories.
While the 1 percent unwrap diamonds at Christmas dinner, homeless charity Shelter predicts 80,000 children will wake up homeless on Christmas morning.
"Many will spend Christmas morning in an emergency bed and breakfast or hostel, often cramped into one room with their whole family and with limited cooking, laundry and bathroom facilities," the charity said.
Continuing cuts also mean that working families are worse off in real terms, and the latest figures from the Institute for Fiscal Studies suggest young people in Britain are harder up than the previous generation.
Levels of inequality have continued to rise in the UK. The IFS calculate the Gini coefficient – a commonly-used measure of the level of inequality in a country – is 0.65 for Britain, with 0 equating to total equality and 1.0 meaning the total wealth of a country is in the hands of one person.