Salmond fires back at 'crass' claims he dodged Syria statement to unveil portrait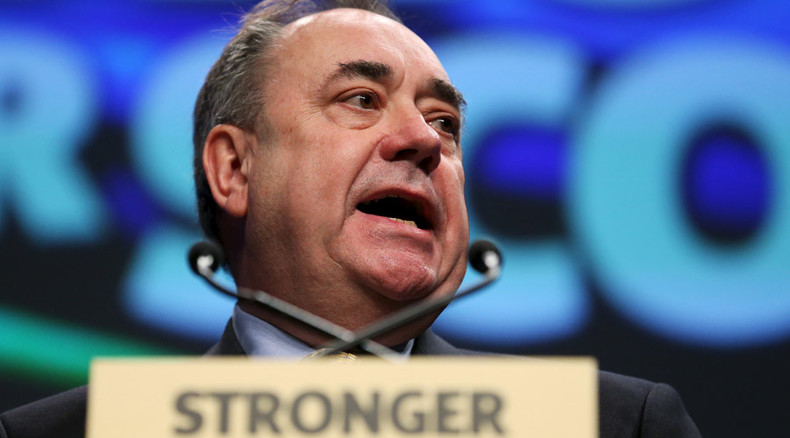 Scottish National Party (SNP) foreign affairs spokesman Alex Salmond has fired back at critics who say he skipped Prime Minister David Cameron's statement on military intervention in Syria to unveil a painting of himself at Edinburgh's National Portrait Gallery.
A spokesperson for the former first minister said Salmond would be hosting a pre-arranged veterans' reception on Thursday night, making his critics' comments on Britain's war footing all the more "crass."
Instead of joining SNP colleagues in the House of Commons, opponents claim Salmond took the opportunity to take a first look at his new portrait and attend First Minister's Questions at Holyrood.
Salmond, who as well as being a Westminster MP is also a member of the Scottish Parliament, was lambasted by a Labour spokesperson for not attending.
"If Alex Salmond was chocolate he would eat himself," the individual told the Mirror newspaper. "On the day that he had a job to do in Parliament over Syria, it's ridiculous that the SNP's foreign affairs spokesperson was in Edinburgh to look at a picture of himself."
In a statement, Ruth Davidson, leader of the Scottish Conservatives, said: "There is nothing more serious than the potential deployment of our service personnel abroad.
Alex Salmond thought unveiling a portrait of himself was more important than the Syria statement. Absolutely shocking!

— Liam Cowles (@liam_cowles) November 26, 2015
"The fact the SNP's foreign affairs spokesman would apparently prefer to unveil a portrait of himself in Edinburgh, than take his seat in the Commons during the prime minister's statement on UK actions in Syria speaks volumes."
She added Salmond is "paid – twice over – to be a parliamentarian, not an art critic."
An SNP spokesperson was quick to fire back, branding the comments "crass" and "ridiculous." Salmond had been given a full briefing on the content of Cameron's Syria plans the previous night, they added.
"Firstly, Alex attended a full briefing on Privy Council terms and received a full briefing last night in the Cabinet Office from the security services and the joint chiefs. Therefore, there was nothing in the prime minister's statement which [was] a surprise or new information to him.
"Secondly, prime ministerial statements are always answered by Angus Robertson as SNP leader in Westminster. When the issue comes to debate and vote, Alex will be contributing to the debate as [the] foreign affairs spokesperson on the issue of peace and war in Syria."
Referring to Salmond's Scottish parliamentary duties, the spokesperson said: "Alex was representing his constituents today in the Scottish Parliament as an MSP, and where after watching the Commons statement he attended First Ministers Questions."
The spokesperson also pointed out Salmond would be attending a veterans' reception on Thursday evening. "In that light, and given the nature of that event, the Tories' statement is simply crass."