Osborne: 'Tampon tax' will fund women's charities
Published time: 25 Nov, 2015 15:59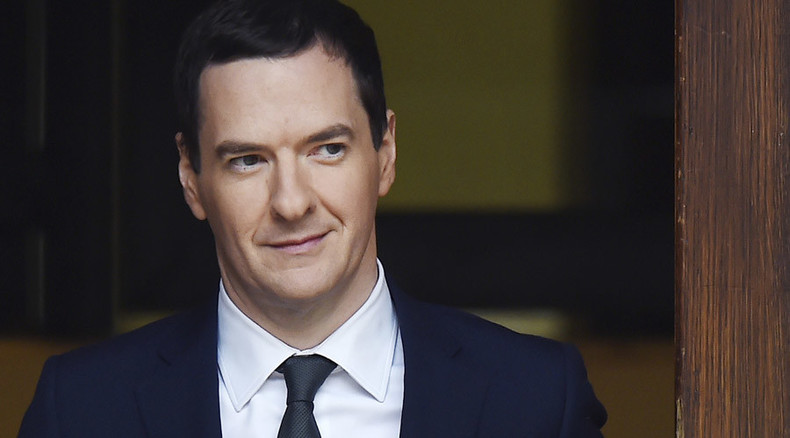 The £15 million raised by the VAT tax on female sanitary products will be used to fund women's charities, Chancellor George Osborne announced in his latest spending review.
Responding to several massive campaigns to abolish the EU-enforced five percent VAT tax on menstrual products, Osborne said on Wednesday that scrapping the tax would be difficult because of strict EU regulations on taxation, but promised to lobby the EU to get the law changed.
"We already charge the lowest 5 percent rate allowable under European law and we're committed to getting the EU rules changed. Until that happens, I'm going to use the £15 million a year raised from the tampon tax to fund women's health and support charities," he said.
"The first £5 million will be distributed between the Eve Appeal, SafeLives and Women's Aid, and the Haven – and I invite bids from other such good causes."
Osborne's announcement prompted anger on Twitter, as users argued it should not only be women who are responsible for women's health and wellbeing, but rather a concerted effort by all of society.
Paula Sherriff, the Labour MP behind the failed amendment to the Finance Bill to scrap the tax, told the Commons last month: "Frankly, VAT on tampons is the Vagina Added Tax. A tax on women, pure and simple."
"A tax system that lets you dine on crocodile steak on your private jet without paying a penny, when we can't survive a period without the Treasury taxing us for it, cannot be a fair one."
Though Sheriff's amendment was voted down in the Commons, vocal critics continue to campaign against what they call an overtly sexist tax. A Change.org petition calling on the government to address the issue has amassed over 275,000 signatures.
In 2000, the Labour government drove VAT down from 17.5 percent to 5, the lowest it could go under EU rules.