'I'm a Muslim, not a terrorist': British teen offers free hugs to fight Islamophobia (VIDEO)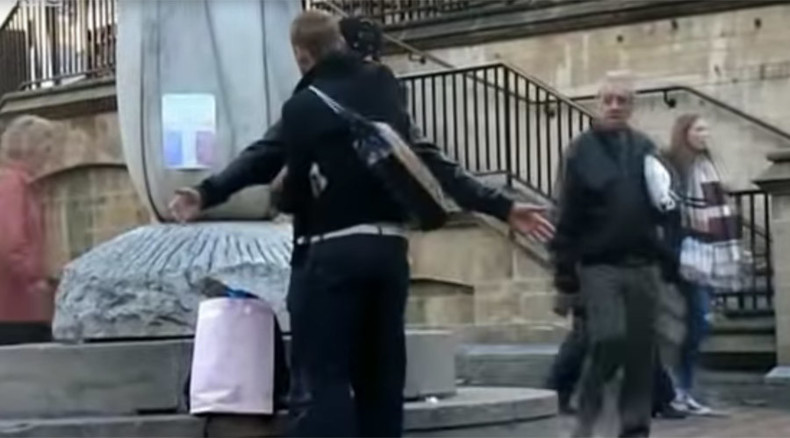 A British Muslim teenager took to the streets of Nottingham to offer strangers free hugs while blindfolded in an effort to combat Islamophobia and fight misconceptions about Muslims in the wake of the deadly Paris attacks.
Yusful Pirtot, a Kurdish Muslim who moved with his family to Nottingham from Northern Iraq in 2007, said he wanted to show not all Muslims are terrorist sympathizers.
"The reason I wanted to do it was because I grew up in a society where I was being called a terrorist nearly every day," the 16-year-old said.Pirot, who said he had been thinking about staging the hugging event for months, decided to go through with it after hearing about the terrorist attacks in Paris.
"This idea was in my head for a long time – I wanted to send a message out to the world and tell them that I am a Muslim. There are 1.7 billion of us in the world – that doesn't mean that every single one of us is a terrorist. Deep inside I do care – and it hurts me.
This Muslim man stood in the city centre of Nottingham in protest of the terrorist attacks in Paris. The writing on his bag says 'I'm a Muslim, pray for Paris'. His shirt reads 'I trust you, do you trust me?'

Posted by The LAD Bible on Tuesday, November 17, 2015
"Some brainwashed people think it is alright to go and blow themselves up … not all Muslims think the same way," he said after the event last week.
The teen wore a sign around his neck which read: "I trust you. Do you trust me? Give me a hug."
On his back he wore a similar sign, but with the added message "#PrayForParis."
Pirot said in the two hours he stood in the city center, more than 100 people hugged him. However, the response was not all positive.
"It was scary," he told the Nottingham Post. "Because I was blindfolded, people thought I couldn't hear what was going on. I'd say 99.9 percent of people were positive, but there was a tiny minority who said disgusting things.
"I heard a few people saying negative things – one person said to his friend, 'What would happen if I punched him in the face?'"
A video of the event has been viewed over two million times after being shared on Facebook by the Lad Bible, a popular viral content sharing community.
"I was really shocked and surprised," said Pirot. "I thought it would be a normal video and ... not a big deal. I was like 'wow.'"
Last week a Muslim man in Paris staged a similar event, offering hugs to mourners at Place de la Republique. Hundreds hugged the man as onlookers wiped away tears.
You can share this story on social media: