Cameron admits renewing Trident nukes will cost extra £6bn
Published time: 23 Nov, 2015 16:52
Edited time: 23 Nov, 2015 16:53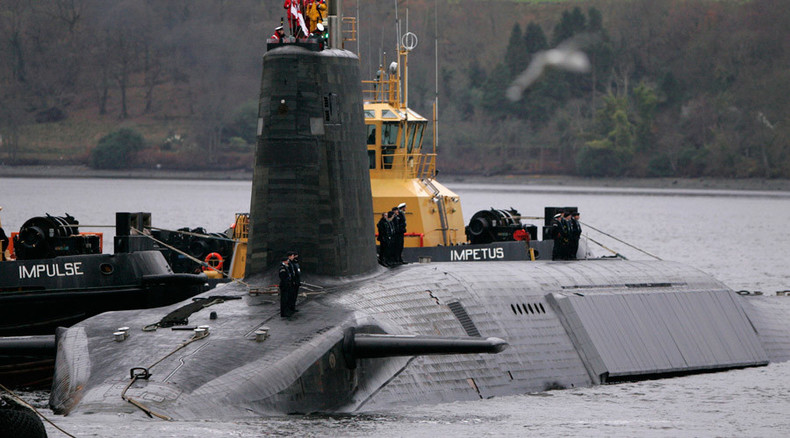 The cost of renewing Britain's Trident nuclear weapons program has jumped by 20 percent, according to the government's Strategic Defense and Security Review (SDSR) unveiled in parliament on Monday afternoon.
Replacing Britain's nuclear missiles system was estimated to cost £25 billion nine years ago, but that figure has been revised up to £31 billion, plus a £10 billion contingency.
The new figure is likely to add fuel to arguments against replacing the nuclear missiles, with critics arguing it was too expensive even before the price hike.
Campaign for Nuclear Disarmament (CND) general secretary Kate Hudson said the total cost of maintaining Britain's nuclear weapons system could now rise to a total £183 billion.
"This is outrageous – the government has completely lost control of the budget," she said.
"With the cost of new submarines rising by 60 percent to £41 billion – and in addition to the £142 billion in-service costs reported by Crispin Blunt MP last month – Trident replacement could now rise to a staggering £183 billion."
"In its determination to replace this Cold War relic, the government is prepared to keep on spending, even if it's to the detriment of conventional forces and tackling the real security threats we face, such as terrorism, cyber warfare and climate change," she added.
Earlier this month, Chancellor George Osborne sent an ultimatum to Prime Minister David Cameron, saying he would only earmark £40 billion ($60.8 billion) to pay for the next generation of submarines to carry Trident nuclear missiles if the project is taken away from the MoD.
The Chancellor is concerned the MoD, which has a poor procurement track record, will not have the Trident submarines ready by 2028, the year when the existing Vanguard submarines must be decommissioned.
Trident has proven a divisive issue in British politics, with Labour leader Jeremy Corbyn strongly opposing its renewal, despite many more moderate MPs within his shadow cabinet in favor of retaining nukes.
Corbyn has also ruled out ever using nuclear weapons if he becomes prime minister.