Turn the other cheek? Punch-throwing Jeremy Clarkson says 'Don't bomb ISIS'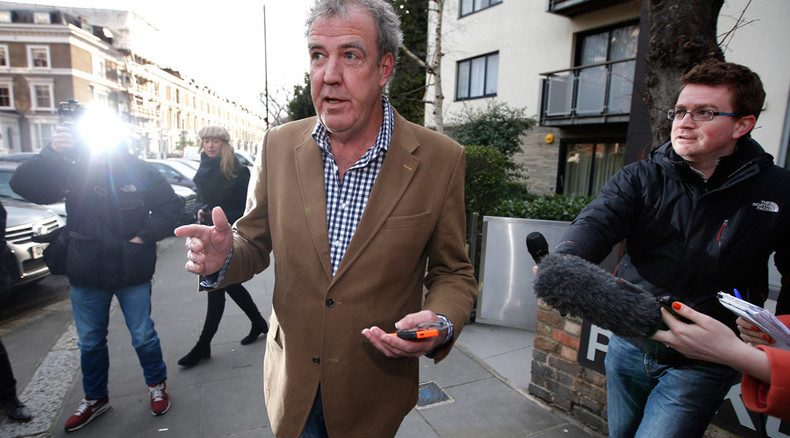 Former Top Gear presenter Jeremy Clarkson has courted controversy after saying the world should ignore Islamic State (formerly ISIS/ISIL) terrorists and stop bombing them in Syria, as it could "lead to more attacks."
A week after ISIS terrorists killed 130 people in Paris, the celebrity TV presenter criticized world leaders for "not understanding" what the terror group wants.
Writing in the Rupert Murdoch-owned Sun newspaper, Clarkson said if Britain drops bombs in countries with a strong ISIS presence, jihadists will "become angry and send people over here to blow us up in shopping centers.
"This will make us angry so we'll drop more bombs, which will cause them to send more people over to Europe to blow up, and so on and so on.
His article went on to say: "Dropping bombs from planes allows First World leaders to say they're in the fight, but it will solve nothing. It never has and it never will.
"If they really want to make a difference they have to send in ground troops and they won't do that, not after what happened last time.
"To make matters worse, our leaders don't seem to understand what [ISIS] is or what it wants or even what it's called.
"They tell us it doesn't follow the teachings of Islam, but it does, actually. In the same way that those mad, shouty churches in America follow the principals of Christianity."
Clarkson further claimed that ISIS terrorists do not intend to kill non-Muslims.
In September, Islamic State's chief spokesman Sheikh Abu Muhammad al-Adnani ordered his followers to find an infidel and "smash his head with a rock, run him over with a car or destroy his crops."
An infidel is a person who does not accept the Islamic faith or someone who has no religious faith.
Commenting on al-Adnani's remarks, Clarkson said: "He means any Shi'ite Muslim. He does not, however, necessarily mean Christians or Buddhists or Jedi Knights like me."
"He will just about tolerate us lot so as long as we basically leave him and his organization alone.
"But can we do that? Can we sit back and let [ISIS] get on with its butchery?"
Jeremy clarkson go to hell after saying we should leave ISIS alone, police should pull him in for questions in case he is a traitor

— Barry Pullum (@BarryPullum) November 22, 2015
One Twitter user called for police to investigate Clarkson over his comments. "Jeremy Clarkson go to hell after saying we should leave ISIS alone, police should pull him in for questions in case he is a traitor," they said.
"So just let them murder and cause mayhem, is that what you mean?" another user asked.
His comments come as the UN called for world leaders to take "all necessary measures" to fight ISIS.
US President Barrack Obama said overcoming fear was the "most powerful tool" to defeat ISIS.
"The most powerful tool we have to fight ISIL is to say that we're not afraid. To not elevate them and to somehow buy into their fantasy that they're doing something important," Obama said during his trip to Malaysia.
Earlier this month, it emerged the senior BBC producer Clarkson punched during a fracas over hot food is suing the ex-Top Gear presenter and the BBC for alleged racial discrimination.