Give war a chance? Corbyn could allow Labour MPs free vote on bombing Syria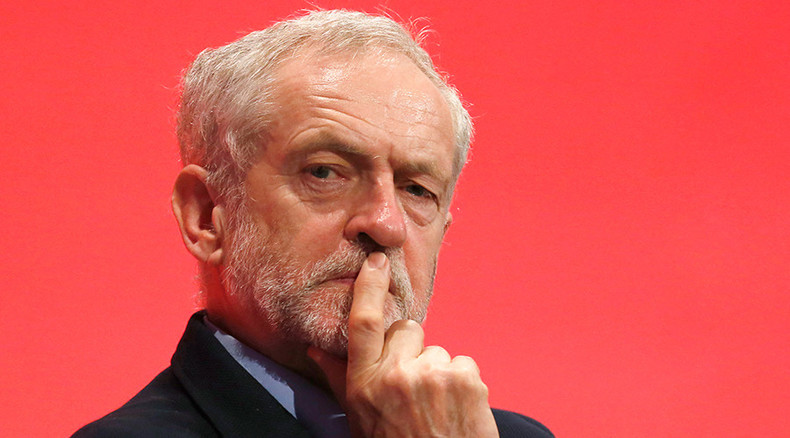 Labour leader Jeremy Corbyn is under pressure to allow his MPs a free vote on extending airstrikes against Islamic State (IS, formerly ISIS/ISIL) from Iraq into Syria after party whips warned scores will rebel in order to back intervention.
Party sources told the Daily Mail up to 60 Labour MPs, including some frontbenchers, could rebel against Corbyn, who has stated he will not support extending airstrikes into Syria without a UN mandate.
Another source said a rebellion on that scale would deal a "shattering blow" to Corbyn's authority.
The Labour leader's stance appears to have the backing of the Scottish National Party (SNP), however, with former leader Alex Salmond insisting his party will only support military action if explicit backing from the UN is secured.
Corbyn has faced public criticism from within Labour for opposing military action in Syria.
Writing in Labour's center-right Progress Magazine, former Shadow International Development Secretary Mary Creagh said airstrikes in Syria "must be part of a comprehensive strategy for the Middle East."
Former Labour chair of the Commons Foreign Affairs Committee Mike Gapes said he would defy the party whip to vote in favor of airstrikes.
"I will vote with my conscience and beliefs and I don't think Jeremy is in any position, given his record of voting against the leadership, to try and tell Labour MPs to vote against what's right," he told the BBC.
Former Shadow Business Secretary Chuka Umunna said pro-war Labour MPs are being insulted, trolled and threatened with deselection for their views.
In a subtle attack on Corbyn, he told BBC Radio 4's Today program on Friday it is the responsibility of MPs to keep their constituents safe.
Shadow International Development Secretary Diane Abbot, who is a close ally of Corbyn, suggested he may back down and offer MPs a free vote.
"[The rebels] will be defying party policy, and they will have to explain it to party members. But, in the end, they must vote with their conscience," Abbot said.
SNP leader Nicola Surgeon appeared to soften her opposition to the UK bombing Syria on Thursday when she said she would listen to Prime Minister David Cameron's case for airstrikes.
"I'm not yet convinced the case for airstrikes has been made. That is not to say I will not listen to the case that David Cameron will make," she said.
Salmond, however, is far more ardent in his opposition.
"A UN resolution is a pre-condition of SNP support for military action. Not, incidentally, just because of the legality, although legalities are quite important in these matters, but also because unless you have that UN consensus you cannot bring peace to Syria," Salmond told the BBC's Daily Politics.
"In other words, you have a situation where the Russians would be opposed to Daesh [Islamic State], but bombing the Free Syrian Army, you would have a situation where the Turks are bombing Daesh but also bombing the Kurds, and you couldn't bring peace to Syria. That is why a UN resolution is certainly a pre-condition to SNP support, but more importantly a pre-condition to bring about peace to the people of Syria," he added.