Cam Force One? British PM orders £10m ministerial jet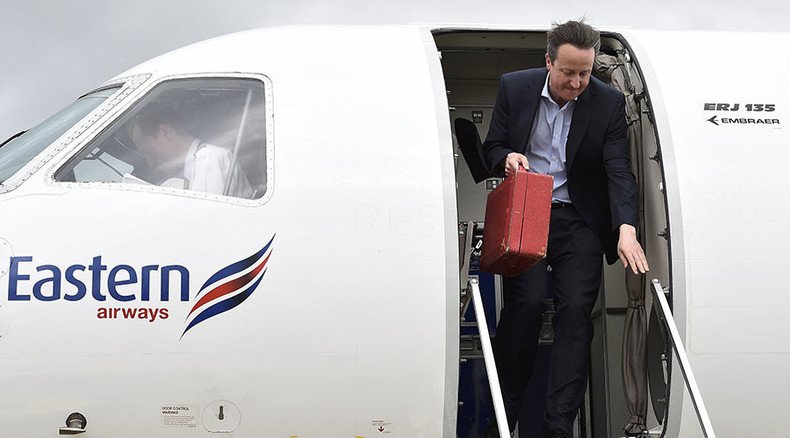 Prime Minister David Cameron and senior ministers are to get their own £10-million version of the US presidential jet Air Force One to whisk them around the world on official visits, despite a fresh round of austerity measures from Chancellor George Osborne.
An RAF Voyager A330 will be transformed into an Air Force One-style jet, allowing the PM to travel in style and security on long-haul flights. The conversion is reported to cost around £10 million.
The aircraft, which will also be available for the Royal Family to use, is expected to carry 160 passengers and have secure communication links, according to the Times.
It will also be equipped with missile detection technology, permitting it to fly over warzones where normal airlines cannot travel.
The VIP jet could be in service as early as next year.
Cameron and Osborne will announce the move as part of a security and defense review on Monday.
The news comes as Osborne prepares to set out tough spending cuts in a bid to eliminate the budget deficit.
The government, however, insists the aircraft will "not be luxurious," further claiming it will save taxpayers around £775,000 a year and work out cheaper than the existing system of regularly chartering planes.
"We have been looking at ways to make better use of the RAF fleet to transport senior ministers and consequently deliver savings for taxpayers," a government spokeswoman said in a statement.
"We have decided to adapt one of our existing Voyager aircrafts so that, in addition to its primary air tanking role, it can transport ministers and it will also be available for the Royal Family to use."
Downing Street currently spends £6,700 per flying hour on Cameron's travel. This figure is expected to drop to £2,000 under the new arrangements.
In January, the government spent around £100,000 sending the PM to Saudi Arabia to pay his respects following the death of King Abdullah bin Abdulaziz.
In 2008, plans for an American-style Air Force One plane were dropped by then-PM Gordon Brown, who said it would be too expensive.
You can share this story on social media: