'Police need more guns,' say chief officers amid Paris attack security crackdown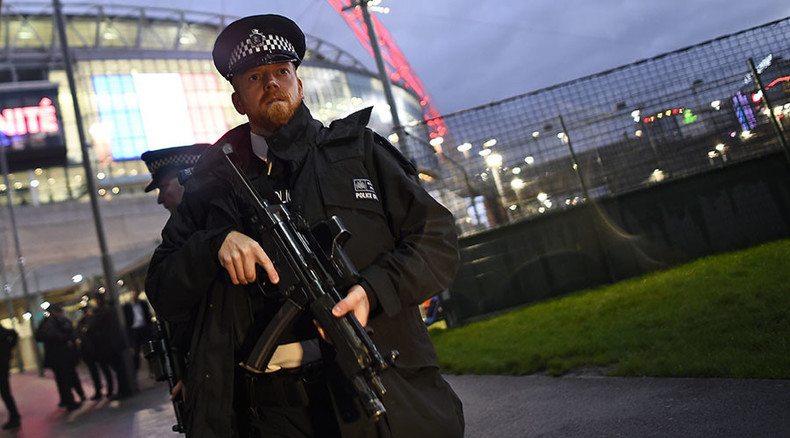 Armed officers were deployed to London's Wembley Stadium during the England v France match in the wake of Friday's terror attacks in Paris, suggesting a new norm in overt, militarized policing.
The presence of armed police signals a sharp rise in the number of officers carrying firearms throughout London as senior officers have expressed concern there are not enough guns in the country to counter a similar terror threat.
The UK's lead on armed policing, Deputy Chief Constable Simon Chesterman, said on Wednesday: "We have the ability to surge significant numbers of firearms officers and can call upon military support, however, this takes time and the time frame of the Paris incident shows that a robust initial response is vital.
"We don't want to knee-jerk towards a new type of policing where everybody's armed. I don't think anybody's arguing for that, but this type of attack shows that the police have got to be ready," he added.
Currently just 2,000 of the Metropolitan Police Service's 32,000 officers are routinely armed, and only 400 of those armed are tasked with responding to armed threats around the city.
Met police chief Sir Bernard Hogan-Howe told LBC radio on Tuesday that the number of armed response officers needs to be doubled, as well as increasing the number of armed response vehicles by a third.
"What I've said is ... we're working on plans now so that in the short period of time, we've got an extra third on top of the core provision. The armed response vehicle element, we're increasing by a third straight away," he said.
"But then the overall pool I want to increase by a third overall and also at any one time, on duty, probably double."
His comments come as police forces across the country anticipate further budget cuts in the spending review next week.
Since 2010 when the government began to slash the police budget, more than 17,000 officers have been cut, with similar savings lined up between now and 2020.
Hogan-Howe says he expects a further 5,000 Met officers to be axed as a result of the cuts.