UK nukes are 'militarily irrational, not credible,' says former nuclear commander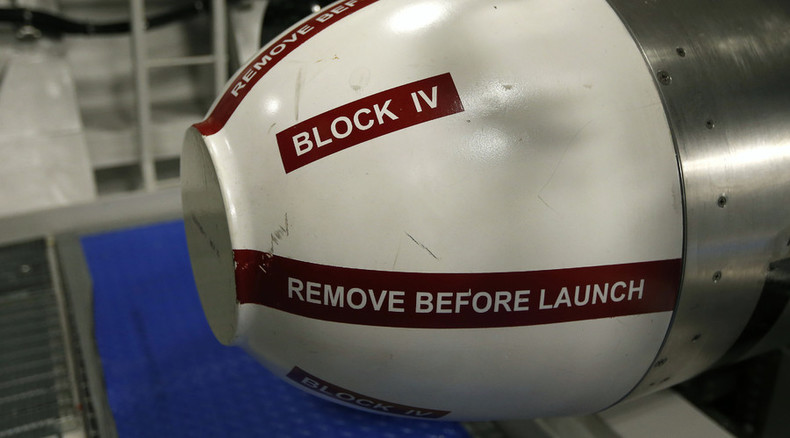 A former commander of British nuclear weapons has written an open letter to Labour leader Jeremy Corbyn in support of his anti-Trident stance, in which he debunked common arguments used in defense of nukes.
Commander Robert Green, a retired Royal Navy officer, flew Buccaneer nuclear strike aircraft and helicopters equipped with nuclear depth-bombs during the Cold War. Now he is calling for the UK to ends its nuclear weapons program.
In an open letter to Corbyn – who caused a stir in the UK when he said he would never "push the button" if elected prime minister – the former pilot argues Trident is "militarily irrational and not credible."
Green debunks several commonly held arguments in favor of the UK retaining its nuclear deterrent, including the idea that Trident nuclear missiles are under British control. In reality Britain relies heavily on US military infrastructure.
He quotes the late Sir Michael Quinlan, a former defense strategist in the Ministry of Defence (MoD), as having said: "Every British government has needed to find intellectual clothing for what has always been a gut decision never to allow France to be the sole European nuclear power."
Green goes on to critique Quinlan's thinking given that Britain's nuclear arsenal is reliant on US technology.
"When weighed against the gravity of the implications, how rational and responsible is this? Besides, was not this decision rendered hollow once the 'independent British deterrent' came to depend upon a US-leased missile system, US software in the fire control system, US targeting data and satellite communications? This trumps any puerile 'Little Englander' political posturing about the French."
He goes on to argue the UK should scrap Trident in favor of a more "tangible, useful and credible" defense diplomacy.
Green also dismantles the "macho" notion that the prime minister would have to "press the button" in the event of a nuclear war.
"That dirty work is delegated to the Commanding Officer of the deployed Trident submarine. And back when I was in a nuclear crew of a Buccaneer strike jet or Sea King anti-submarine helicopter, we were given that dreadful, suicidal responsibility," he wrote.
"The current UK political leadership's threat to use UK Trident therefore requires the four submarine crews to be prepared to commit nuclear terrorism, risking them being branded as guilty of the Nazi defense against war crimes," he adds.
Green cites three examples in the 20th century where the world came close to nuclear war, thereby dismissing the argument that nuclear deterrence prevents war and provides stability between states.
In one example, the Exercise Able Archer miscalculation of 1983, nuclear war was narrowly avoided when Soviet Lieutenant Colonel Stanislav Petrov correctly dismissed early warning signs that indicated a US missile attack on Russia.
Green argues that if the UK were to abandon its nuclear weapons it could claim it was "in line with its commitment under [Non-Proliferation Treaty] NPT Article 6" – a move that would give Britain the chance to be a "force for good in the world."
"The UK was the third state to detonate a nuclear weapon, and is one of the five permanent members of the UN Security Council (known as the P5). British anti-nuclear breakout, therefore, would be a sensational game-changer."