Britain turns back on Black Friday shopping bonanza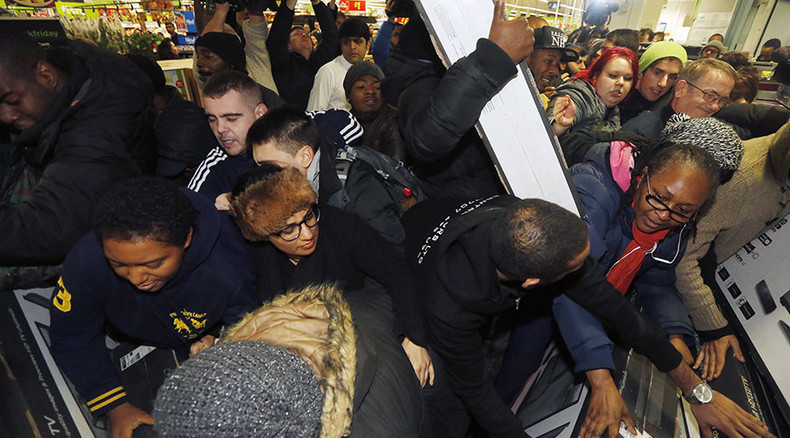 British supermarket chain ASDA is canceling this year's Black Friday flash sales just two years after importing the shopping tradition from the United States.
The move reflects a growing backlash against Black Friday, as shoppers reveal they would prefer to have deals spread out over the holiday season rather than grouped together on one day.
Retailers are also concerned about focusing so much of their business into one day at the cost of losing trade during the Christmas period.
Black Friday is predicted to be a £1-billion trading day in the UK, according to analysts at Salmon, Experian and IMRG. Approximately £810 million was spent online on Black Friday last year – the biggest ever day for internet sales in the UK.
Critics deride Black Friday as the worst manifestation of consumer capitalism, while proponents argue it boosts retail trade and gives high customer satisfaction.
The holiday is mired in controversy, both in the UK and US. Day-long flash sales have led to chaotic scenes of frantic shoppers fighting each other over non-essential luxury items.
According to the website BlackFridayDeathCount.com, there have been nine deaths and 98 injuries in Black Friday related incidents since 2006.
The vast majority of these took place in the US, where two years ago an 11-year-old girl was rushed to hospital after being trampled by eager shoppers in a Wal-Mart store in Ohio.
In the UK last year, a woman suffered "minor injuries" after being hit by a falling television in a Stretford store, while a Salford man was arrested after he threatened to "smash a staff member's face in."
As a sign of the British backlash against Black Friday, supermarket giant ASDA – a subsidiary of the US chain Wal-Mart – has axed the day from its calendar.
The store said its decision reflected "shopper fatigue setting in around flash sales on big-ticket, non-essential items at Christmas.
"Customers have told us loud and clear that they don't want to be held hostage to a day or two of sales," ASDA Chief Executive Officer Andy Clarke said in a statement.
The supermarket's decision follows comments by Andy Street, managing director of retailer John Lewis, who said Black Friday took away from the traditional holiday season trade.
"It is not in the industry's interest to focus so much trade onto one day. You want more steady trade and obviously you want more of it at full price."