'Almost a miracle': 1yo girl 'saved from incurable leukemia' by genome editing therapy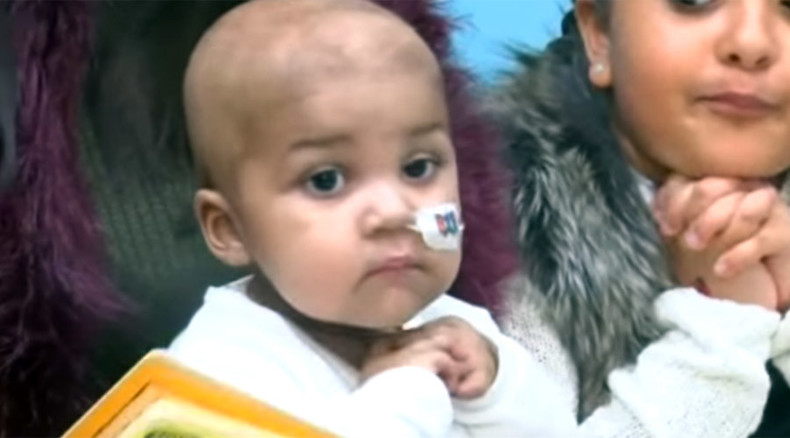 A new treatment that hadn't been tested on humans before helped doctors treat a one-year-old girl with acute lymphoblastic leukemia (ALL) in the UK. She is now doing well, the London hospital says.
The treatment, which hasn't been clinically tested, was used to treat one-year old Layla Richards by research teams from the Great Ormond Street Hospital for Children (GOSH) and UCL Institute of Child Health's (ICH).
"As this was the first time that the treatment had been used, we didn't know if or when it would work and so we were over the moon when it did. Her leukemia was so aggressive that such a response is almost a miracle," Professor Paul Veys, Director of bone marrow transplant at GOSH and the patient's lead clinician, said in a press release.
Layla was born healthy, but at three months old the infant wasn't feeling well and was taken to doctors who first suspected a tummy bug, according to the hospital. However blood tests revealed that she had Acute Lymphoblastic Leukaemia (ALL).
Doctors described her case as "one of the most aggressive forms of the disease we have ever seen."
Despite several rounds of chemotherapy and a bone marrow transplant (BMT) Layla still had cancer cells. Doctors said that a second round of treatment wasn't an option and suggested palliative care, which focuses on relieving suffering for seriously ill patients, while lessening the stress on their families, when no cure is expected. Awhile later, however, the child's family was offered experimental therapy that was about to begin clinical trials.
"The approach was looking incredibly successful in laboratory studies," Professor Waseem Qasim, Professor of Cell and Gene Therapy at UCL ICH and Consultant Immunologist at GOSH, explained. "The treatment was highly experimental and we had to get special permissions, but she appeared ideally suited for this type of approach."
Developments in cancer treatment have led to approaches where immune cells, known as T-cells, are gathered from patients and programmed using gene therapy to recognize and kill cancerous cells. However, patients with aggressive forms of leukemia don't often have enough healthy T-cells to collect and reprogram.
In the new experimental treatment at GOSH, researchers use modified T-cells from donors, known as UCART19 cells, which are delivered intravenously to patients in around 10 minutes.
"Layla didn't notice anything was going on, and was bouncing around her cot all the way through!" her father, Ashleigh, said.
After the cells had been delivered, the child spent several months in isolation to protect her from infections. Doctors monitored the patient expecting to see an immune response, usually in a form of a rash, which appeared on Layla's skin as she was about to be discharged from hospital.
"I thought it was bad news but then he said 'it's worked' and I just cried happy tears," Ashleigh said. "Even though she is well at the moment, we still don't know what the future holds. She will still have monthly bone marrow checks for now and might be on some medicines for the rest of her life."
Despite the success, doctors are cautious and say that full clinical trials are still needed.
"We have only used this treatment on one very strong little girl, and we have to be cautious about claiming that this will be a suitable treatment option for all children. But, this is a landmark in the use of new gene engineering technology and the effects for this child have been staggering," Professor Qasim said.
Full clinical trials on a large group of patients funded by Cellectis, a biotech company, are scheduled to begin early in 2016, according to the GOSH statement.