Million Mask March: Met condemns violence, protesters claim police brutality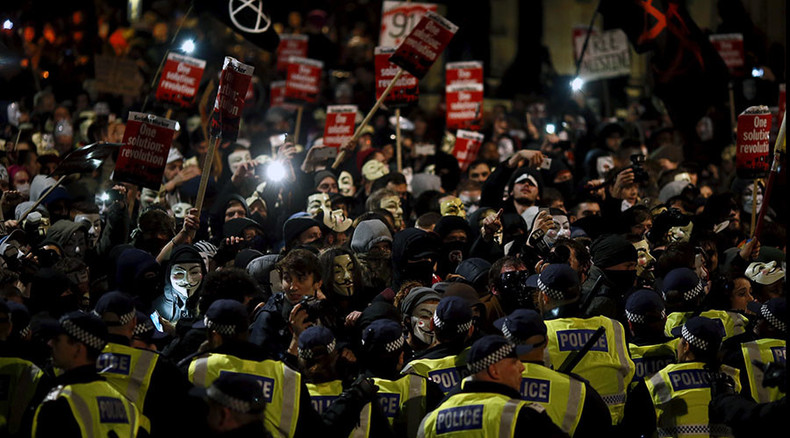 London's Million Mask March against inequality and austerity descended into "completely unacceptable violence" on Thursday night, according to a Scotland Yard commander who described how several police were hospitalized during the clashes.
Some 50 protesters were arrested at the demonstration, the majority for public order offences and breaking police "kettles," while two activists were detained for assaulting police officers. Of those arrested, 48 remain in custody.
Commander Ben-Julian Harrington, the officer in charge of policing the protests, praised the professionalism of police in the face of "hostile provocation." Scotland Yard deployed 2,000 officers for the march.
However, protesters on the scene described instances of police incitement and heavy-handedness, with one activist telling RT how an officer struck him on the head with a baton.
Of the two protesters arrested for assaulting police officers during the march, one has been charged while the other has been cautioned.
The Metropolitan Police say three officers were hospitalized, all of whom were discharged Friday morning. Several police horses were also injured during the protest, with one suffering injuries after being hit by a firework.
Also amid the chaos, a photographer was run over by an Aston Martin in Westminster. He sustained injuries when the vehicle sped off after being surrounded by protesters. Activists could be seen rushing to the photographer's aid in video footage of the incident.
The peaceful protest against wealth inequality and austerity descended into violence after marchers attempted to break through police barriers in Westminster. Scotland Yard had established permitted zones for the demonstration which limited activists to specific roads around Trafalgar Square, Whitehall and Parliament Square.
Riot police filled the streets of Westminster as soon as activists broke the conditions of the march by attempting to break through police cordons. Masked protesters set fire to a police car on Old Queen Street, near Parliament Square.
The protest fragmented as the evening wore on, with some groups heading north to Leicester Square and Piccadilly Circus, while others marched toward Buckingham Palace.
Demonstrators narrowly missed the UK premiere of "The Hunger Games: Mockingjay (Part 2)," having marched past Leicester Square minutes after Hollywood star Jennifer Lawrence posed for photographs on the red carpet.
Commander Harrington said those who broke the law during the demonstration would be brought to justice.
"I'd like to thank those who conducted themselves in a peaceful manner and as well as Londoners for their patience and tolerance whilst anti-social and intimidating behavior was happening," he said.
"Officers have been hospitalized, a police horse suffered injuries and a police car was criminally damaged during the course of the protest which is completely unacceptable.
"I praise the professionalism and restraint that officers have shown in the face of hostile provocation and enabled the policing operation to pass without major incidents. We will bring those responsible for the criminality to face justice," he added.
However some protesters on the march claimed police were not always "professional" in their conduct. Responding to Harrington's comments, protester Samantha Pressdee tweeted: "RESTRAINT!? I was batoned, groped, pushed & screamed at. While peacefully protesting FOR YOU!"
During the march she described having being kettled by police officers in Westminster.
RT journalist Will Njobvu described one instance where a woman claimed an officer was provocatively touching her.
Another video shows a young man wearing a rainbow-colored "Take it easy" badge, who was bleeding having been struck on the head by a police baton.
By 2100 GMT the protest had dissipated, with most marchers heading home. RT correspondent Harry Fear, who reported live from inside the protest, said the violent nature of the demonstration overshadowed its intentions.