Hog roasted! Lewes bonfire burn effigy of Cameron with a pig's head (VIDEO)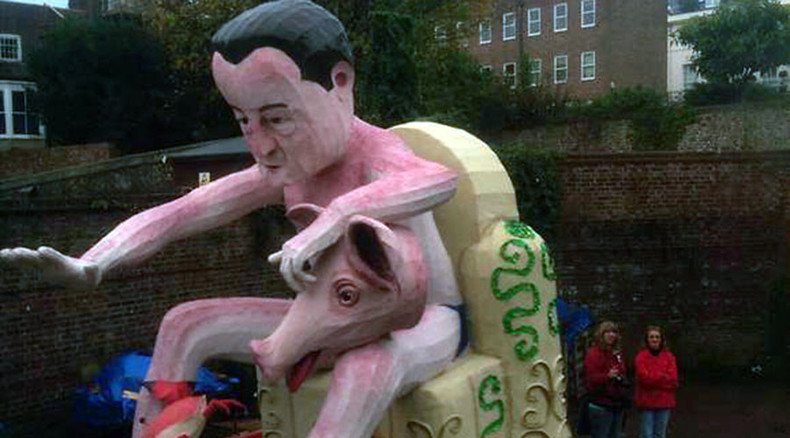 Just when Prime Minister David Cameron thought the laughter and ridicule of the #PigGate scandal had smoldered out, the people of Lewes decided to mark Guy Fawkes night by burning an effigy of the Tory leader – naked with a pig's head in his lap.
The Sussex town is famous for making its Bonfire Night festivities go with a bang, and hasn't disappointed this November 5.
Twitter user @MattyJam92 spotted this year's Guy, which is traditionally burned atop a bonfire, being towed into place Thursday morning. Unlike the more common effigies of Guy Fawkes, the English Catholic who attempted to blow up the Houses of Parliament in 1605, Lewes burned a compromising incarnation of the prime minister.
The #PigGate scandal, which stemmed from a startling claim that Cameron put "a private part of his anatomy" into a dead pig's mouth at a student initiation ceremony while a student at Oxford, led to an endless barrage of jokes and mockery. The PM has denied the claim, made in an unauthorized biography of Cameron by former Tory party donor Lord Ashcroft.
You can share this story on social media: