Police plan Westminster lockdown ahead of 'Million Mask March'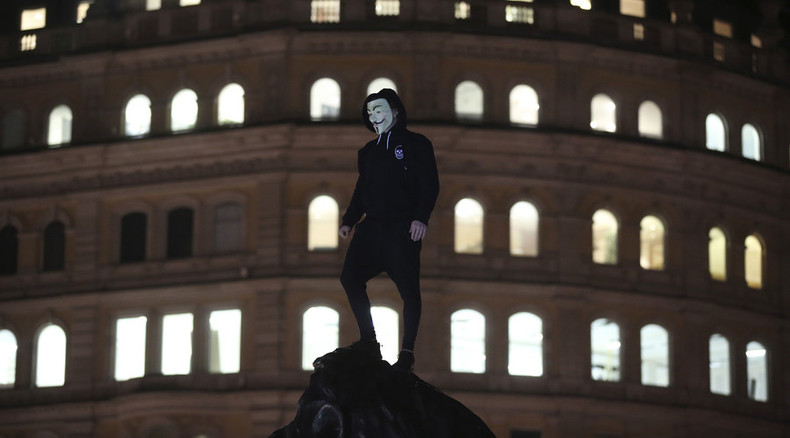 Thousands of extra police officers and rigid public order rules will be brought into Westminster on Thursday night over fears the London leg of the global "Million Mask March" against austerity and state surveillance could spill over into civil unrest.
Organized by the global activist network Anonymous, the march has become an annual event. Last year's protest saw scuffles between police and activists, who wore the distinctive Guy Fawkes masks adopted as the movement's motif.
The Metropolitan Police claims demonstrators will target particular businesses and may cause damage to property.
It says it has briefed potentially targeted firms and has promised a "significant policing operation."
"This year we have strong reason to believe that peaceful protest is the last thing on the minds of many of the people who will come along," Chief Superintendent Pippa Mills told The Guardian on Wednesday.
"Over the last few years this event has seen high levels of antisocial behavior, crime and disorder," she added.
In statement, the Met police said: "Numbers are currently anticipated to be in excess of 3,500. Attendees are encouraged to wear a mask."
"Some social media entries are actively trying to encourage attendees to cause trouble," the statement added.
The Public Order Act will be used to confine protests to Whitehall, Trafalgar Square and Parliament Square.
The London protest will be one of a global wave of demonstrations by Anonymous, which announced in a statement Monday that the 2015 event will be about "building a better future through collective action."
The group's use of the Guy Fawkes mask and choice of November 5, Bonfire Night, are a deliberate nod to the historical terrorist.
Fawkes, part of a band of persecuted English Catholics, was captured and executed by the British state after attempting to blow up King James VI inside the Houses of Parliament in 1605.
Guy Fawkes' image was popularized by the 2005 film adaptation of the Alan Moore graphic novel "V for Vendetta."
Anonymous is a broad church of activists who aim to oppose austerity and state surveillance.
"While individual participants may have different ideas about what a better future looks like, they will be demonstrating together in support of Anonymous' methods and the continued ability for people to congregate under their banner and take actions anonymously," the network's statement said.
You can share this story on social media: