Anonymous plot bonfire night Million Mask March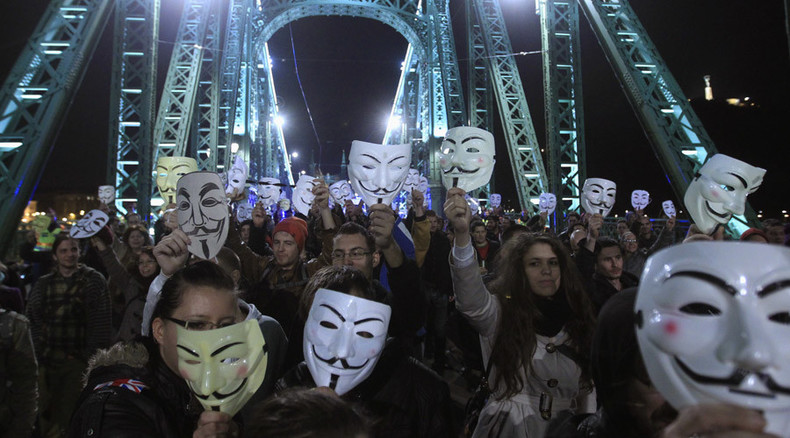 Activist collective Anonymous have released details of the 2015 Million Mask March, which will see coordinated demonstrations in cities across the globe protesting against corruption, human rights abuses and censorship.
Following in the footsteps of previous marches, the worldwide demonstration will take place on November 5, coinciding with bonfire night in the UK.
This year's message is "building a better future through collective action," a statement from the group released on Monday reads.
The London march in 2014 attracted over 1,000 participants who marched through the city center wearing distinctive Guy Fawkes masks, which have become the unofficial emblem of the movement.
Fawkes, part of a band of persecuted English Catholics, was captured and executed by the British state after attempting to blow up the Houses of Parliament in 1605. His image was popularized by the 2005 film adaptation of the Alan Moore graphic novel V for Vendetta.
"While individual participants may have different ideas about what a better future looks like, they will be demonstrating together in support of Anonymous' methods and the continued ability for people to congregate under their banner and take actions anonymously," the statement reads.
The group emphasized their function as an umbrella organization, which allows multiple groups to act together.
"Anonymous has no leaders or formal membership, and it is not uncommon for different factions of the collective to actively oppose one another.
"What makes Anonymous work is its relentless pursuit of the best ideas, regardless of who may have had the thought.
"Anonymous exists without race, gender, religion, nationality, or ego. It acts where other groups cannot or will not, and gets results. This November, Anonymous invites the world to 'mask up' and join the movement."
Last year, five people were arrested during the London march after scuffles broke out between protesters and police.
Police marshalling the event used batons to control demonstrators. Activists set off fireworks around Parliament Square.
Self-styled revolutionary Russell Brand was also spotted marching with the crowd.
You can share this story on social media: