Stranded! #LondonFog leads to canceled flights, disgruntled commuters (PHOTOS)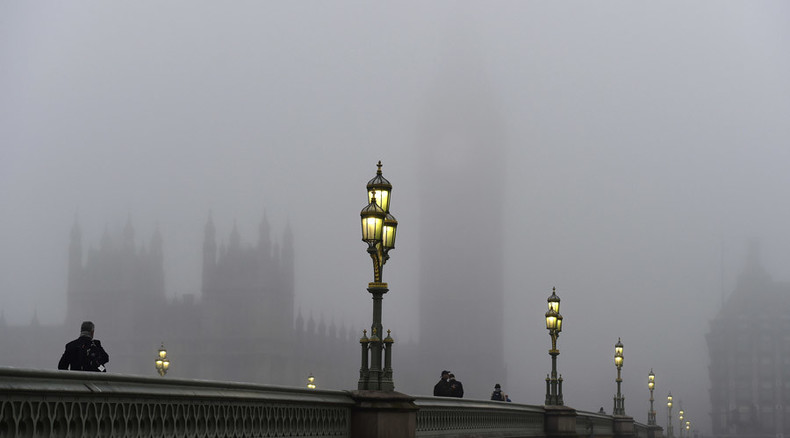 Heavy fog in London has created chaos for commuters, causing disrupted train services and dangerous driving conditions. Heathrow has canceled dozens of flights, and London City airport is closed to all routes. Photos and frustrations have been posted online.
The Met Office has issued a yellow warning for much of England and Wales, citing "poor visibility" of less than 100 meters at times, and "hazardous conditions."
Commuters posted their photos of the mist on Twitter, with many using the hashtag #LondonFog.
One of the tweets issued an alert warning that the city's iconic Tower Bridge was "missing."
But Tower Bridge wasn't the only famous landmark that was lost in the haze. One tweet said the London Eye was "somewhere" in the mist.
Another joked that they thought the lights of the giant ferris wheel had been turned off.
Some of the most dramatic photos were taken from high vantage points, including London's famous Shard building.
Others were even taken from the air, snapped by passengers lucky enough to be on one of the non-canceled flights.
Of course, not everyone was fortunate enough to be flying on Monday, due to cancelations and major delays. Those frustrations were unsurprisingly expressed on Twitter.
Around 45 flights were canceled at Heathrow. Flights were also canceled at London's Gatwick airport, while City airport was closed to all routes.
But despite the delays, some took time to express gratitude to the airlines that eventually managed to safely deliver them to London.
Airline passengers weren't the only ones documenting the extreme fog online. Even those traveling to work by cable car were affected by the haze.
A fair number of rail commuters also shared images from their morning journey to work.
Monday marks the second day the UK has been hit with heavy fog. And while the conditions have certainly disrupted the lives of many, some at least had a sense of humor about the misty morning haze.