Tony Blair denies ordering burning of document ruling Iraq war illegal – claims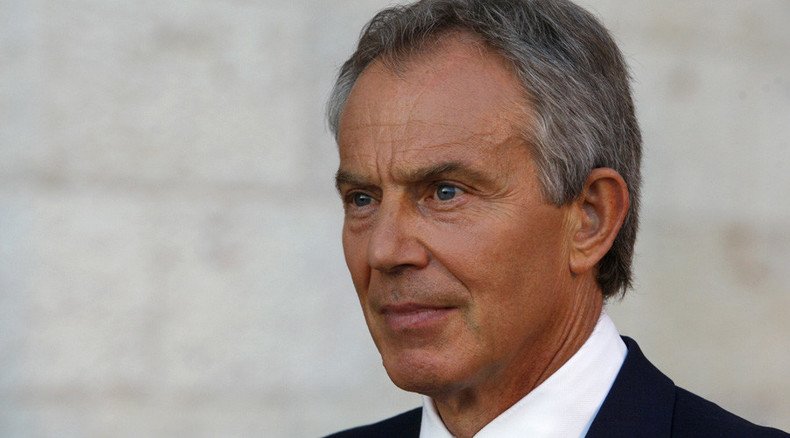 Former Prime Minister Tony Blair has denied ordered the burning of documents drafted by Attorney General Lord Goldsmith which argued the Iraq war would be illegal weeks before the invasion began in 2003.
In a statement responding to allegations made on Sunday, Blair's office said: "This is nonsense as far as Tony Blair knows.
"No one ever said that in his presence and in any event it would be quite absurd to think that anyone could destroy any such document."
"Mr Blair and Lord Goldsmith dealt with all the circumstances surrounding the advice at the (Iraq) inquiry at length and with all the documents. The fact is the advice given was that the action was legal and it was given for perfectly good reasons," the statement added.
The Mail on Sunday newspaper had reported that on the eve of the war Downing Street was gripped with panic as Britain's top lawyer declared any such move illegal in a 13 page document.
An anonymous insider told the Mail that ministers and aides in possession of a copy of the document were told to "burn it. Destroy it."
READ MORE: Tony Blair 'misrepresented' WMD evidence before Iraq invasion – UN inspector

Ten days after the events are alleged to have taken place, Goldsmith u-turned on his original advice and declared the invasion legal.
Defence secretary Geoff Hoon is said to have been one of the ministers who refused to obey the burning command – a move which allegedly saw Blair trying to kick him out of cabinet.
"Geoff received the 'burn it' order second-hand," the Mail's source claimed. "He did not regard it as an instruction to be followed."
"Downing Street was very keen at the time that the document should not have wide circulation, but Geoff would argue that the remark should not be interpreted as a sign that they were determined to get the Attorney General to rewrite the advice."
A senior figure who served at No. 10 at the time told the Mail: "There was pandemonium. The date when war was expected to start was already in the diary, and here was Goldsmith saying it could be challenged under international law.
"They said 'burn it, destroy it' and got to work on the AG [Attorney General]."
It is widely thought that Blair's inner circle applied serious pressure on Goldsmith at the time to ensure that he advised in favor of invading Iraq.
"Peter [Goldsmith] did say in that original advice that as long as certain conditions were satisfied then war was legal, but it did not give an absolutely clear view which could be used by the military," the source said.
"The later summary was much clearer," the unnamed individual added.
LISTEN MORE:
You can share this story on social media: