Hallo-wastful! 18,000 tons of pumpkin binned during Halloween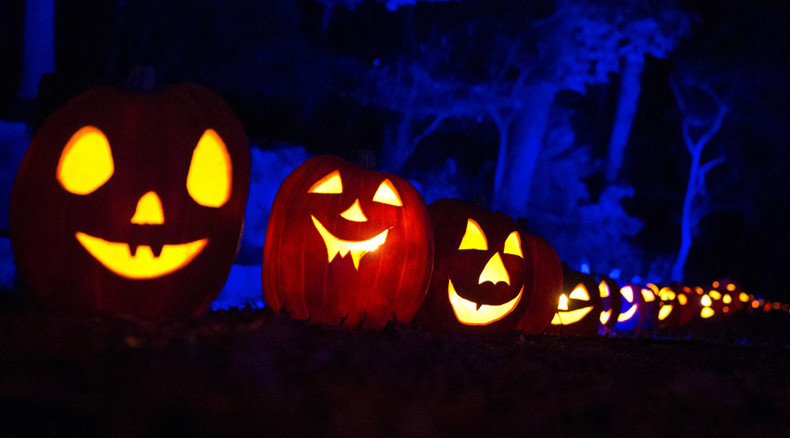 Some 18,000 tons of pumpkins will be wasted during Halloween weekend, as party-goers buy up the vegetables to decorate their doorway for the spooky festival and then discard them.
According to the Waste and Resources Action Programme, the sale of pumpkins rises by 90 percent in the weeks leading up to Halloween, with an estimated one million vegetables bought each year.
The mass pumpkin drive will create 18,000 tons of vegetable waste, the charity Hubbub UK calculates, with virtually none of them being eaten. It calculates the number of wasted pumpkins could provide one meal for every UK inhabitant, at a time when a million citizens are relying on foodbanks to stave off growing rates of malnutrition.
The charity is launching an initiative to rescue some of the pumpkins destined for landfill by hosting events teaching people to cook the vegetable. Hubbub UK believes the reason so many pumpkins are wasted is because many people simply don't know what to do with them.
One survey, by pollster Populus, noted that 52 percent of respondents would use their leftover pumpkins if they knew more recipes.
Some 42 percent said they avoided cooking with pumpkins to avoid the hassle of de-seeding them.
Celebrity chef Hugh Fearnley-Whittingstall is backing Hubbub's #pumpkinrescue and will encourage people to cook with the remains of their Halloween pumpkins.
Speaking at the launch event in London on Thursday, Fearnley-Whittingstall said as long as people gave their decorative vegetables "a good clean" the flesh can be used to make soups and curries.
"I think pumpkin waste is just something we haven't really thought about. I want to help people use their carved pumpkins to make something delicious," he said.
The chef said throwing away pumpkins is part of a prevailing culture of waste.
"People are more aware of the issue of food waste — but there is still a way to go. I believe we are still the waste capital of Europe.
"Use-by dates are an issue. Even their name seems dictatorial.
"People are terrified of using food that's past its date. It is as if they think the clock will strike midnight and then all of a sudden the food will turn into poison and they will drop dead if they eat it, like some sort of Cinderella story, which is obviously not true.
"People seem to forget their common sense. I wouldn't say ban them — but take them with a pinch of salt. If it looks okay, it probably is."