Nearly half smartphone users 'can imagine falling in love with Siri' – study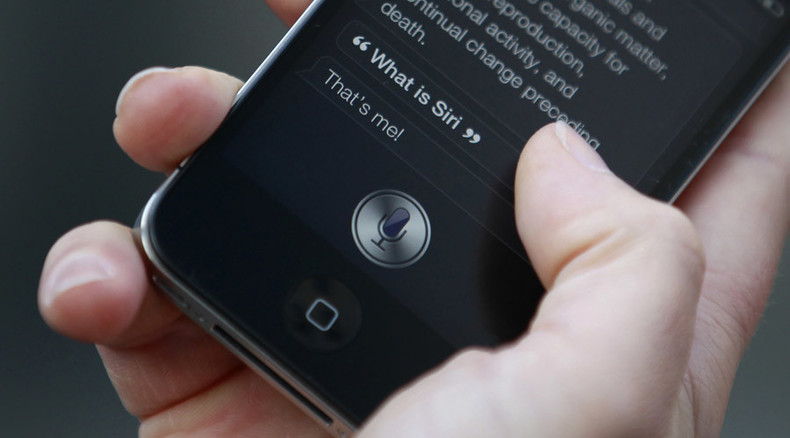 Almost half smartphone users could imagine falling in love with Siri, a study has revealed. Experts predict humans will soon start to develop sexual feelings for their virtual assistants.
In recent years, the demand for digital devices has grown rapidly, along with its users' desire to build fulfilling relationships with their virtual assistants.
It appears that artificial intelligence researchers are pushing the boundaries in teaching robots how to understand and react to human emotion.
According to research published in 2012, 87 percent of iPhone users used Siri at least once a month.
However, new research suggests the built in intelligent assistant, which uses natural voice to communicate, has worked its charm on users, as many of them claim they are falling in love with it.
The survey, which examined 12,000 users of digital assistant app Assistant AI, similar to Siri, found more than 40 percent of participants could imagine falling in love with their virtual assistant.
Another quarter said they "might" be able to see themselves in an intimate relationship with a digital robot.
Many of those surveyed said they could imagine a future in which their relationship with Siri gets hot and heavy.
'Loving Siri is not a problem'
Alex Garland, director of blockbuster movie Ex Machina, said falling in love with Siri is not a problem.
"The thing that we value in each other is our minds," he told Yahoo News.
"You could have a very beautiful tree but if someone said, 'We're going to kill a human or cut down that beautiful tree,' you'd say 'OK, cut down that tree.'
"If you had a beautiful machine that you found aesthetically pleasing and it was sentient, why not? Fall in love, sure."
As of now, Siri users are not sexually frustrated by digital relationships. However, experts suggest this will change in years to come.
'Sexy and romantic'
Goggle's engineering director Ray Kurzweil predicts that in 15 years, artificial intelligence softwares like Siri will be "sexy and romantic" with its users.
"My timeline is that computers will be at human level, such that you can have a relationship with them in 15 years from now – 2029," he told the Independent.
"When I say about human levels, I'm talking about emotional intelligence. The ability to tell a joke, to be funny, to be romantic, to be loving, to be sexy, that is the cutting edge of human intelligence, that is not a sideshow," he added.
'My autistic son fell in love with Siri'
American journalist Judith Newman, 54, revealed her 13-year-old son Gus, who is autistic, became obsessed with Siri.
"I watched my 13-year-old son deep in conversation with Siri. Gus has autism, and Siri, Apple's 'intelligent personal assistant' on the iPhone, is currently his BFF," she wrote in the New York Times.
"This is a love letter to a machine. It's not that Gus doesn't understand Siri's not human. He does — intellectually.
"But like many autistic people I know, Gus feels that inanimate objects, while maybe not possessing souls, are worthy of our consideration.
"I heard him talking to Siri about music, and Siri offered some suggestions. 'I don't like that kind of music,' Gus snapped. Siri replied, 'You're certainly entitled to your opinion.'"