'Exclude NHS from TTIP deal,' opposition parties demand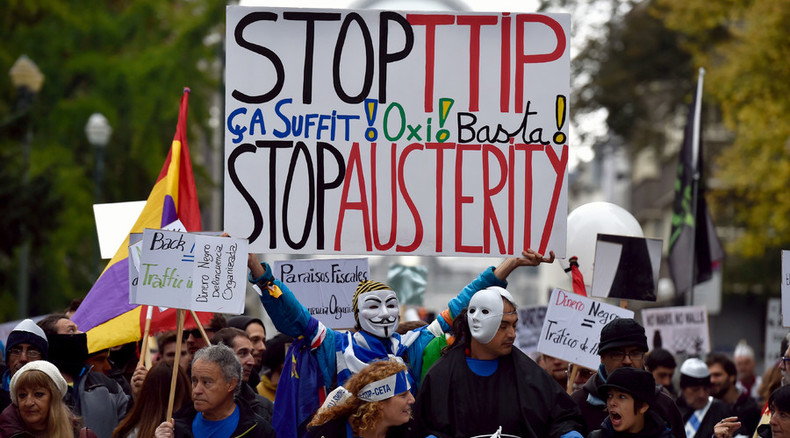 Leaders of nearly every major political party in the UK, including Jeremy Corbyn (Labour), Nicola Sturgeon (SNP), Nigel Farage (UKIP) and Nathalie Bennett (Green), have backed an appeal to stop the NHS becoming part of the Transatlantic Trade and Investment Partnership (TTIP).
The appeal, organised by trade union Unite, aims to remove the public health service from plans laid out in TTIP amid fears its inclusion in the deal could lead to it being privatized by American health firms.
TTIP is being discussed by the US and the EU as a means of freeing up trade between the two economic regions and allowing companies to operate under the same set of rules.

The 11th round of negotiations on the deal ended in Miami last week, but some groups believe it will not be passed until Obama leaves the White House in 2017.
Part of the agreement is the creation of a new court, the Investor State Dispute Settlement, which would give corporations the ability to sue governments for any decision or legislation they believe is not beneficial to their company.

The appeal states its fears that an American healthcare company may use the ISDS to claim compensation after it was prevented from buying a portion of the NHS.

"TTIP must not restrict the scope for decisions by any level of government, public authority or NHS organisation relating to public healthcare [and] must not give US investors new rights that they could use to sue any level of government, public authority or NHS organisation because of policies relating to healthcare," the appeal says.

As well as garnering the support of numerous Westminster leaders, the leaders of Northern Ireland's two biggest parties, the Democratic Unionist Party and Sinn Fein, Peter Robinson and Martin McGuinness, respectively, also signed the appeal.
Unite said it had not received support from the Conservatives, and had not had a reply from the Liberal Democrats.
Unite General Secretary Len McCluskey urged Prime Minister David Cameron to join the group protesting TTIP's impact on the NHS.
"David Cameron needs to add action to warm words. Expert legal advice confirms that there are clear dangers arising from TTIP that could impact the NHS unless political leaders are ready to use the veto."

Scottish National Party leader Nicola Sturgeon also wrote to Cameron.

"I urge the government to ensure that the NHS is fully exempt from TTIP and, if that is not the case, to use its veto at the European Council to prevent TTIP progressing," she said.

Trade campaigner Mark Dearn added that the agreement was hitting repeated stumbling blocks and advised governments to hold more open discussions.

"TTIP negotiations are not going as planned. EU governments would be better off listening to their constituents than continuing with these secret negotiations the people of Europe do not want."