5 Britons among dead in whale-watching boat sinking off Canadian coast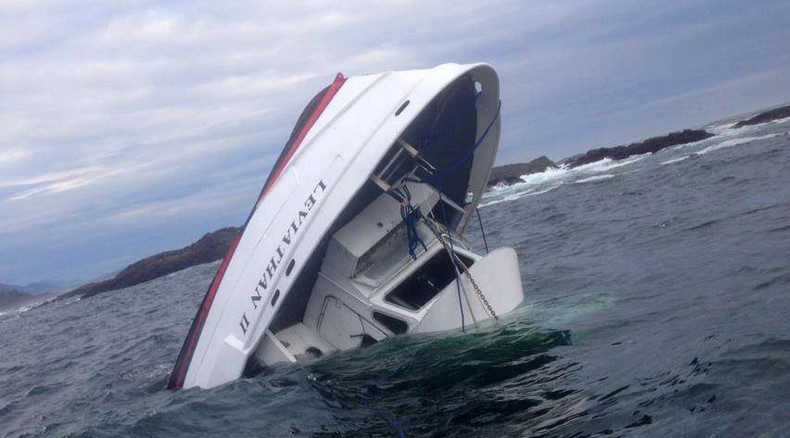 Five Britons have died after a whale-watching boat carrying 27 passengers sank off the coast of western Canada, UK Foreign Secretary Phillip Hammond has confirmed.
The 20-metre Leviathan II boat, which was taking tourists to a destination for whale watchers, sank about 8 miles (12 kilometers) west of Tofino on Sunday afternoon.
Some 30 minutes after the incident happened, rescue helicopters, planes and boats were at the scene. Twenty-one people were rescued but the rest were missing.
It is not yet known what caused the boat to capsize and sink, as locals have said the water was "calm" at the time.
On Monday, Hammond confirmed that five Britons had died in the tragedy.
"It is with deep sadness that I can confirm five British nationals have lost their lives when the whale watching boat they were on sank off western Canada on Sunday," the British foreign secretary said in a statement.
With deep sadness I confirm 5 Britons have died in Canada boat tragedy. Thoughts are with those affected. @foreignoffice supporting families

— Philip Hammond (@PHammondMP) October 26, 2015
"My thoughts are with the family and friends of all those affected by this terrible accident. Consular staff in British Columbia are supporting the family members of those who have died and we will remain in close contact with Canadian authorities as further information becomes available," he said.
Aboriginal councillor Tom Campbell, who watched from the waterfront as rescuers brought several survivors ashore, said "their looks told the whole story."
"You can't describe looks on people that are lost. They look totally lost - shocked and lost," he told the Associated Press.
In a statement, Jamie's Whaling Station and Adventure Centres said it was "heartbroken" over the incident.
It has been a tragic day. Our team is heartbroken & our hearts go out to the families, friends & loved ones involved https://t.co/IaPMmIod91

— JamiesWhaleWatching (@jamieswhaling) October 26, 2015
"It has been a tragic day. Our entire team is heartbroken over this incident," the statement said.
"We are doing everything we can to assist our passengers and staff through this difficult time. We are cooperating with investigators to determine exactly what happened."