MI6 spy found dead in bag 'was murdered in blackmail plot' – ex-KGB major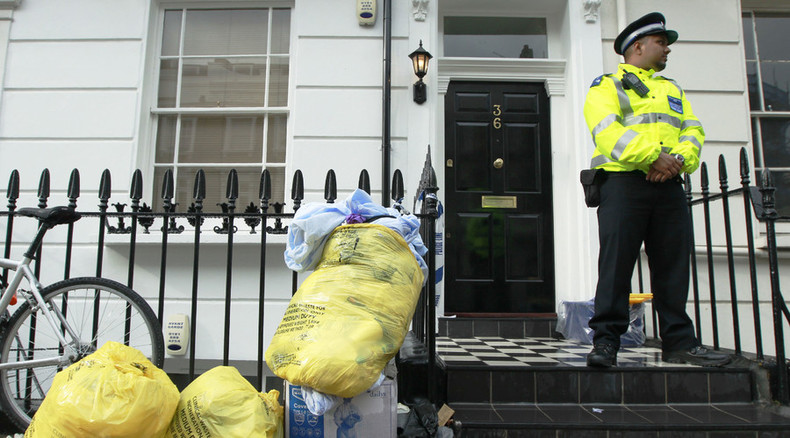 MI6 spy Gareth Williams, whose dead body was found in a padlocked red bag in his central London home in 2010, was allegedly murdered by Russian hitmen for refusing to become a double agent, a former KGB major has claimed.
Former intelligence officer Boris Karpichkov, 56, a onetime major in the KGB, claims his information came from sources high up in the Russian intelligence services.
Williams, 31, was a codebreaker for Government Communication Headquarters (GCHQ) but was on secondment to MI6 in Vauxhall at the time of his death.
The Welsh-born spy lived in an MI6 flat in Pimlico, near the organisation's HQ in Vauxhall.
On August 16 2010, Williams failed to turn up to work. A week later, officers broke down the door of his top floor flat and found his dead body inside a bag.
No fingerprints or DNA belonging to the spy were found on the rim of the bag and there was no sign of a break-in.
In 2012, a coroner ruled that Williams was "probably killed unlawfully," but added that it was unlikely his death would ever be "satisfactorily explained."
'Blackmail'
Karpichkov, who was exiled from Russia and now lives in the UK under a new identity, is certain he has unraveled the mystery behind the 31-year-old's death.
He told the Daily Mail that a Russian double agent working at GCHQ was determined to recruit Williams to work for Russian foreign intelligence service, the SVR.
According to Karpichkov, the mole, known as "Orion," befriended Williams during his recruitment bid and introduced him to a third party named Lukas.
Soon after, Williams traveled to Las Vegas for a computer hacking conference and happened to bump into Lukas.
They both ended up visiting a nightclub together, and Williams' drink was allegedly spiked.
Karpichkov claims Lukas was aware of rumors that Williams had secretly visited gay nightclubs in women's clothing.
After hours of partying, the codebreaker was allegedly taken to a rented home near the club and pictures were taken of him lying in bed next to a man.
Karpichkov alleges that the photos were used to blackmail the MI6 codebreaker, who was told that if he did not cooperate with the double agent, his friends and family would see the images.
The blackmail plot was unsuccessful, as Williams refused to cooperate.
'He didn't die alone'
It is believed that hitmen found their way into Williams' London flat and killed him through a poisonous injection in his ear.
The British spy's family insist that he didn't die alone.
"There is a high probability there was a third party present in the flat at the same time," said Anthony O'Toole, a lawyer for Williams' family.
Experts have dismissed Karpichkov's claims, however, insisting Williams died from his obsession with claustrophilia, an erotic desire for confinement.
"He could shut the bag from inside by pinching the fabric together to fasten the clasp. He was into cross-dressing and had a series of bizarre habits," author and espionage expert Nigel West told the Daily Mail.
"You don't kill people by putting them in bags," West said. "You put two bullets into the back of their head."