'Like back in China': Met police arrest, raid home of Tiananmen Square survivor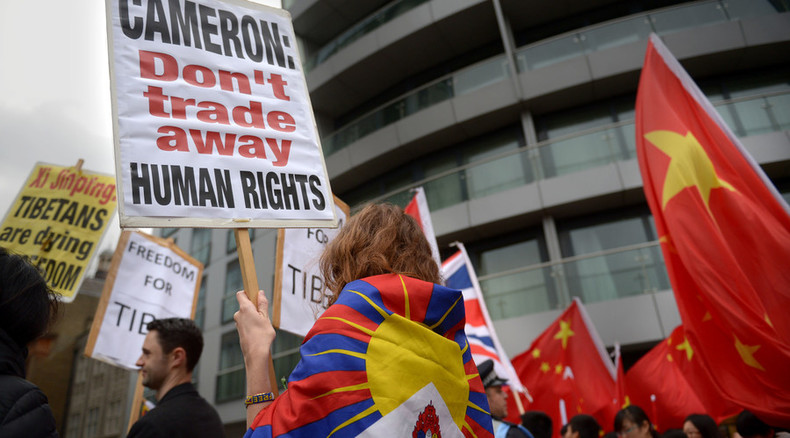 UK police are under fire after arresting Tiananmen Square survivor and pro-democracy activist Shao Jiang and then raiding his home after he protested the Chinese state visit.
Shao, 47, was arrested on Wednesday while protesting near Mansion House, central London, close to the location of an official reception being held for President Xi Jinping's state visit.
Police arrested him while trying to block a motorcade and waving banners which said "End autocracy" and "Democracy now."
After he was arrested and detained overnight, his home was raided by police, who took away computer equipment.
His wife, Johanna Zhang, told the Independent she had been left "traumatized."
"When I was told by the police he had been arrested, it was like I was back in China again," she said.
"All he was doing in the morning was holding protest signs. They were Amnesty International signs calling for the Chinese to end the crackdown."
She said she was shocked at the arrest and compared the UK police action to that of Chinese authorities.
"The police here in the UK are now doing the same things as in China," she said.
A spokesperson for Amnesty International, whose banners Shao had been waving, said police had questions to answer.
"This looks like a very heavy-handed response to a peaceful demonstration," said Allan Hogarth of Amnesty International UK.
"The police need to urgently explain to Shao Jiang why they entered his property and took his possessions, and when they will return them."
Shao witnessed Chinese soldiers shooting demonstrators in Tiananmen Square in 1989 and was arrested a few months later. After spending time in Chinese jails he eventually escaped to Sweden, completed a PhD and became a human rights activist.
Another protestor said people, who appeared to be Chinese security officials, had manhandled her during the protest while in the presence of UK police.
Carole Beavis claim she was "singled out by three official-looking Chinese men, who effectively herded me away from the event, lowered my arm holding the camera."
"I stood next to a policeman and told him I felt threatened, and they immediately backed off."
"I should not be silenced in my own country by an orchestrated show of power from the Chinese Embassy," she wrote in a letter to the Independent.
Two pro-Tibet activists were also arrested at the same protest. Their lawyer Bill Nash of BSB Solicitors said he had never heard of people being arrested for public order offences just because they were waving flags.
"My clients were arrested for what was a peaceful and what many would see as a legitimate non-violent protest concerning the treatment of their country by the Chinese regime," he told the Guardian.
"This smacks of overreaction to a considerable degree. Perhaps it is time that we should focus some of our concentration on our own civil liberties at the same time as we criticize others for their stance on human rights," he added.
The Met Police confirmed Shao had been detained along with the two pro-Tibet activists.
The three were initially held for breaches of the peace, but were later re-arrested on suspicion of conspiracy to commit threatening behavior, police said.
You can share this story on social media: